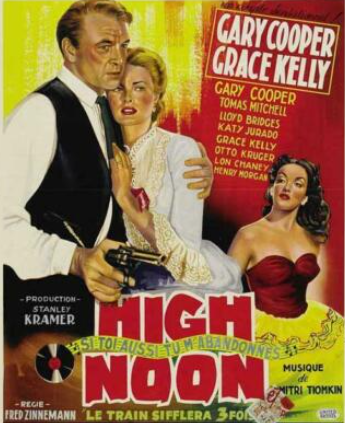 After the exhilaration of the last 2 days, my mood turned sour today. Something awful occurred to me.
We failed. I failed. All our lives we have had it drummed into us what happens when tyranny comes to town. When the bad guys arrive. We have been warned over and over and over again. We have the language, the cultural moments and the examples ringing in our ears. And still we, I, did not stand up when the time came. We became exactly like the townspeople in High Noon. Remember watching that? (If you haven't, go out and watch it now). Remember the good, conservative townspeople who only had to stand shoulder to shoulder with Gary Cooper and the threat would have slunk away with no one hurt?
But they didn't, did they? Like us, like me. Every excuse under the sun. I have a young family, I'm on my own. I have a job, I want to enjoy my retirement. I have grandkids, I have no one. I'm in the country, it's not so bad here, I'm in the city, I can't leave home. I have plans. Plans I tells ya. Maybe they're partly right. Maybe if we wait they'll eventually relent. Let someone else do it.
We were so sure when we watched that movie, weren't we? I'd stand with the Marshall. So sure were we about who WE are, we couldn't even understand those townspeople. What was wrong with them? They must be really rotten people.
There are millions of us, and 99% of us did NOTHING when the time came.
Good, law abiding citizens who watch in growing alarm as our states are taken over by complete totalitarian arseholes.
Watched as the media turned into a very good impression of Volkscher Beobachter or Pravda. And we all know what that looks like, sounds like and what it means.
When bad men combine, the good must associate; else they will fall, one by one, an unpitied sacrifice in a contemptible struggle.

Edmund Burke.
So we stood by as others, not so conservative, not so law abiding took up the challenge. And bloody struggle draws a step closer because of our inaction. And we call ourselves good men.
We stand by as the most awful, most incompetent little tyrants wag their fingers in our faces, satisfied they can continue to do so because their backup is the armed thugs of the state.
We listen to the braying idiots in the media and the fat thickies leading police forces as they repeat over and over the illogical drivel fed them by liars, and we know, we know we are looking at the living embodiment, living, walking, talking, here in our own time, of the banality of evil, for banal they are, and evil the places they are leading us.
The elation I felt watching these recent scenes is, I think, understandable. Many of us just want to see some reaction, any reaction from anyone after nigh two years of stupidity and awfulness and quiet, sad, lonely deaths under these horrible regimes.
It's beyond me what we can do now, if vandalism, illegality and violence escalate. The response from these governing drongos, their stooges and tools will be further tyranny. One might almost think they want it thus. It didn't have to be this way.
(I will remove any comments below that advocate violence or illegality.)