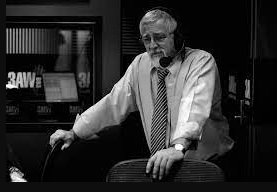 Imagine what it would be like if you have to sign into every place of business you enter, with technology that tracks your movements and is linked to your home address and unique identity.
Shop lifting will disappear overnight. No more free rides on public transport for those nasty turnstile jumpers. No more antisocial behaviour in restaurants, no running off without paying the bill, no more walking out of Bunnings with free Chinese- made shit.
All this must be mighty attractive to all those old style, lock 'em up right wingers. These talkback radio types we listened to every day, like pulling on an old, half chewed pair of slippers: ugly and smelly but also familiar and comfortable, A habit of mind. Might explain why they are strangely right- on with Dan Andrew's new Victoria.
It's the uniting of the authoritarian right and the authoritarian left. A new way to look at the long talked about political realignment. There is Us, and there is Them. They are everyone who want to manage and control everything and everyone using some really, really bad ideas. And we are everyone else. Everyone, no matter why, who doesn't want to live in a gigantic, open air human version of a chicken farm.
We might find ourselves in the company of people we used to think of as the enemy. Old school unionists. Anarchists. Ratbags. Maybe some of our brothers in a certain religion (what side will they come down on as these systems chew into their freedom to do the things they do?).
Meanwhile, people we might have used to think as being broadly on the side of the angels, aint. Not at all. We must look at them with new and much more critical eyes. The Liberals have sucked the big one for quite some time now, maybe they always did. They are as attractive to most of us as a broken down whore. Which is essentially what they are. Those coppers, who for years whined about their lack of resources, who couldn't tackle actual riots because of "civil liberties", who couldn't track down your stolen property or find your missing loved ones, what a sham they turned out to be.
And then there is the media. The disgusting media and their toadying, weaselling and stooging.
Horrible people.
Edit: (Scroll down to Gab's excellent post below about no jab no job)