Tired of Killing – Mont Brehain, October, 1918.
The price of victory was paid with the lives of many very gallant officers, N.C.O.s and men whose loss in the closing stages of the war – perhaps in our last battle all regret.
So wrote the philosophical war diarist of the 24th Australian Infantry Battalion, 6th Brigade, 2nd Division, of the 1st A.I.F. on the 5th of October, 1918, ninety-five years ago today [written a number of years back]. It was indeed their last battle of the Great War, not only for the 24th Battalion, but for the infantry of the ANZAC Corps as a whole.
Unless you are a scholar of the 1st A.I.F. in the Great War, chances are you may not have heard of the location the war diarist was writing of – the name was unfamiliar to me until I became aware of a family connection.
Mont Brehain was a village east of Bellicourt, a major obstacle in the Hindenburg Line of German defences which had recently been penetrated by another Australian division.
I do not understand enough about the battle and its context to deliver a concise, lucid summary here, suffice it to say that the battalion gained their objectives and achieved another 'win' for the generals on paper. For a tired and understrength battalion (as many of them were at this stage of the war) however, the cost of success again ate into their physical and perhaps emotional, strength.
"B" Coy. alone, whose strength at the beginning of the operation was but 90 men claim[ed] to have killed 200 Huns and to have captured 200 Prisoners, 100 machine guns, 9 minenwerfers and a Field Gun. Our Prisoners were no fewer than 380, but as men were few, and the Pioneer Bn. was known to be mopping up in rear, they were sent back uncounted.
In his report, the Commanding Officer wrote:
"It is impossible to estimate the number of enemy killed by my Bn., but never before has it inflicted such heavy casualties. Vickers Gun, Lewis Gun, Rifle and Revolver ran out of ammunition repeatedly, extra supplies were sent forward and much was salved from casualties. German guns were freely used on the enemy, and the battlefield was littered with German dead.
"All the men say they are tired of killing," wrote the battalion war diarist.
One of the 49 24th Battalion men Killed in Action or Died of Wounds (the battalion also suffered 75 Wounded in Action and 8 Missing), was my Great, Great Uncle, Corporal Norman Allen Grant. He was a tailor's presser from Yackandandah in northern Victoria who enlisted on the 6th of July, 1915 and served in the 13th Light Horse Regiment and the 1st ANZAC Mounted Regiment prior to joining the 24th Infantry Battalion in France. On the 4th of October, 1917 he received a gunshot wound to the right shoulder and was sent to England to recuperate. Almost exactly one year later at Mont Brehain he was killed and later buried at the Calvaire British Cemetery. The sole effects as delivered to his mother amounted to a damaged fountain pen in a leather case, a 'housewife', a pair of socks and a devotional book.
Apart from these dry facts garnered from his service record, I know almost nothing about my great, great uncle, but I can't help wondering what his emotional state may have been prior to this, his last day on earth. Did he feel as jaded, as worn-down and 'tired of killing' as his fellow soldiers did?
[Author – Muddy. Source: AWM4/23/41/37].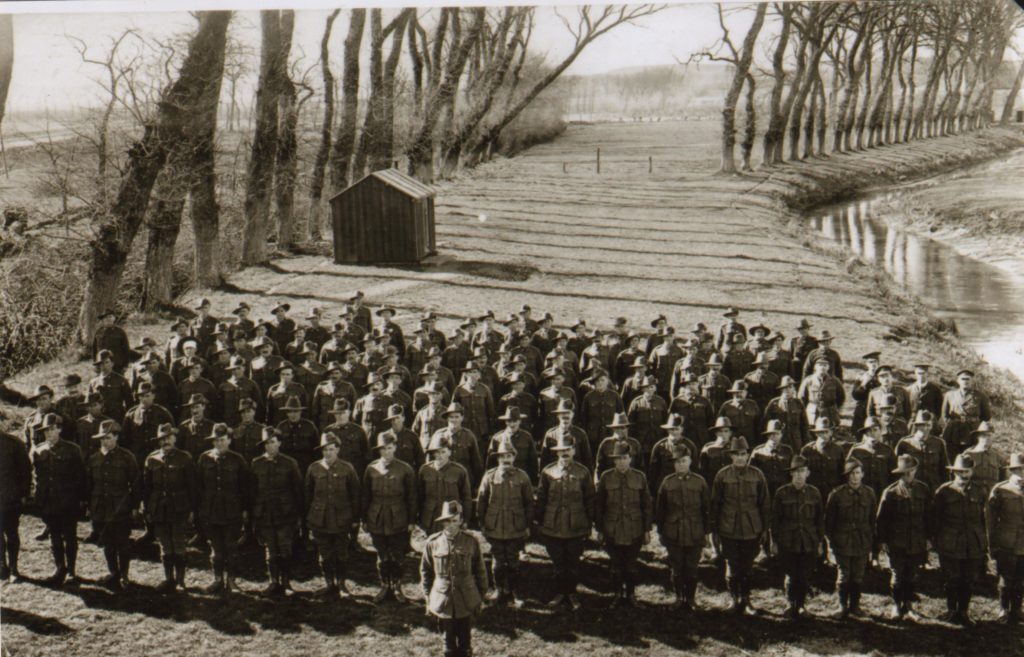 'Author's collection – Courtesy of Mavis Shortland, W.A.'
Not Without its Sorrow… A Christmas Greeting from France, 1918.
I hesitate to quote from a document verbatim and then put it forward as the sum total of a blog entry, however on occasion I believe it is warranted to minimise the commentary and let the original author speak for him/her self. Such is the case with the following, a suggested text for a Christmas greeting to loved ones for the men of the Australian 23rd Infantry Battalion, A.I.F., then in France. It has been extracted from the October, 1918 battalion newsletter. The writer was not to know that their war would end within weeks:
It is difficult to send you a sincere Christmas Greeting. It is intended for those we love – are you not among the number – and we do not expect that joy will be singing in your hearts in these days. And so my greeting is tentative. Take as much of joy as you desire and know that it is not more than my thoughts wish you.

And there is reason for an increased happiness this Christmas in comparison with those of the past four years. We feel that we are on the floodtide of success, which is overwhelming the enemy in its intensity, and carrying us on to the shores where we will meet you again.

If our hearts are not yet singing they are near boiling point. And we can leave our message at that. The hope is high in us that our next greeting will be more intimate and wholly exultant. It shall be sealed with the seal of close and immediate companionship.

The year has not been without its sorrow; keen and keenly felt. Companions of many happy hours have disappeared from the familiar ranks. Where I stood beside a pal I now stand alone. But as a solace and a strength I have always had the knowledge of your affection.

This Christmas message is some acknowledgement of that debt; of the constant thought expressed in so many letters during the past year. Do not think to find me hard and callous, for suffering has taught me the value of life's sweeter things. And I have found them typified in your ever affectionate remembrance.

My thought is ill-expressed, for I am a soldier, but I wish you a Christmas of quiet joy, and so remain, ever your affectionate …
[Editor – Muddy. Source – "The Red and White Diamond" (news sheet) in AWM4 23/41/37].
Remembering the 'Broken.'
Shattered Anzacs by Marina Larsson focuses not on the dead of the Great War, but on those who survived and returned home wounded – in body or mind – and the impact this had on their families. Larsson makes the point that these sacrifices – the loss of limbs, sight, lung function, or mental capacity – are just as worthy of acknowledgement as the roughly 60,000 men who were killed outright.
One of the roughly 150,000 wounded who returned to Australia was a man named Ernest Francis Healy. Frank Healy was a single, 27 year-old 'painter and letterer' from Dudley, Newcastle, N.S.W. when he enlisted in the 1st A.I.F. on the 21st of August, 1914, and was assigned the number '98' which shows just how keen he was to volunteer.
He embarked with the 1st Australian Field Company Engineers just two months later, and after training in Egypt, was amongst those who landed at Gallipoli on that now fateful day, the 25th of April, 1915. Healy acted as a stretcher-bearer for a time, but roughly three weeks after landing, he was shot by a Turkish sniper and paralysed, as the bullet had lodged in his spine.
After being hospitalised in Egypt, Frank returned to Australia and was admitted to the 4th Australian General Hospital at Randwick, Sydney, in mid September the same year, where a crowd reportedly in the thousands was waiting to greet him and his fellow wounded.
As the first 'cot case' to be admitted to Randwick, he was interviewed by a journalist for the Sydney Morning Herald newspaper, and was philosophical in his response: "We did not go over for a holiday, you know. We represented the N.S.W. covering party, and we got it hot … to tell you the truth, you enjoy it while it lasts, but really don't keep a tally of what you doing. It's just like a nightmare."
While Healy mentioned his brother of the 16th Infantry Battalion who had been killed, he stated that if he was able to recover from his wounds, he would return and "get home on those Turks," though in all probability, the newspapers of the day may have written these words for him had he not uttered them himself.
He was complimentary of the treatment he had received in hospital in Egypt: "all that could be expected under very trying conditions," though he mentioned – as others did – that they had received no Red Cross comfort parcels, however "other presents from local people made up for them."
Healy was the proud owner of a 'Turkish dog,' which he had somehow managed to bring back (smuggle?) with him, and which at the time of his interview was in government quarantine. The miniature spaniel named 'Gallipoli' was found "in a Turkish camp we took" and journeyed with him to hospital in Egypt where it walked with other patients (as Healy himself was unable to) and became quite popular, to the point where he was "patted on the head from the General downwards."
Laying "helpless on an air cushion," Healy became a long-term resident at Randwick, and a "familiar figure to thousands of visitors." For five years he had the use of his own tent, nicknamed 'Canary Cottage,' which had been set up for him near the entrance to the hospital grounds.
There is no record of what Sapper Healy's feelings were as the subject of local 'fame,' however on the occasion of the visit to the hospital in 1920 of His Royal Highness, the Prince of Wales, he was honoured with the opportunity to meet the Prince and present to him a deluxe edition of the book "Remnants from Randwick," written and illustrated by the residents. On the same occasion, the visiting royal renamed No.4 General Hospital Randwick, the Prince of Wales Hospital.
It is not known if Healy married, for a later newspaper report mentioning a 'Mrs. Healy' did not state if she was a wife or mother. In about 1927 or '28, he was recorded as residing 'in his home' at Lane Cove, where the fundraising efforts of his community allowed the erection of a 'motor garage' to house the car which had been "specially constructed for his use."
Sadly, however, he was "robbed… of what would have been one of his last pleasures in life" when, after 13 long years of complete dependence upon others, and the denial of the opportunities that his able-bodied peers were able to experience, Frank Healy collapsed and died on Thursday the 9th of August, 1928. It was, as one newspaper called it 'The End of a Weary Road."
So as you reflect today, or on Anzac Day or another such commemorative occasion, please spare a thought not only for those sacrificed their physical life, but also for the broken ones like Sapper Frank Healy, who gave their quality of life, and whose struggles endured long after the last casualty list had been published.
[Author – Muddy. Various references including Marina Larsson, Shattered Anzacs, UNSW Press, 2009, and others].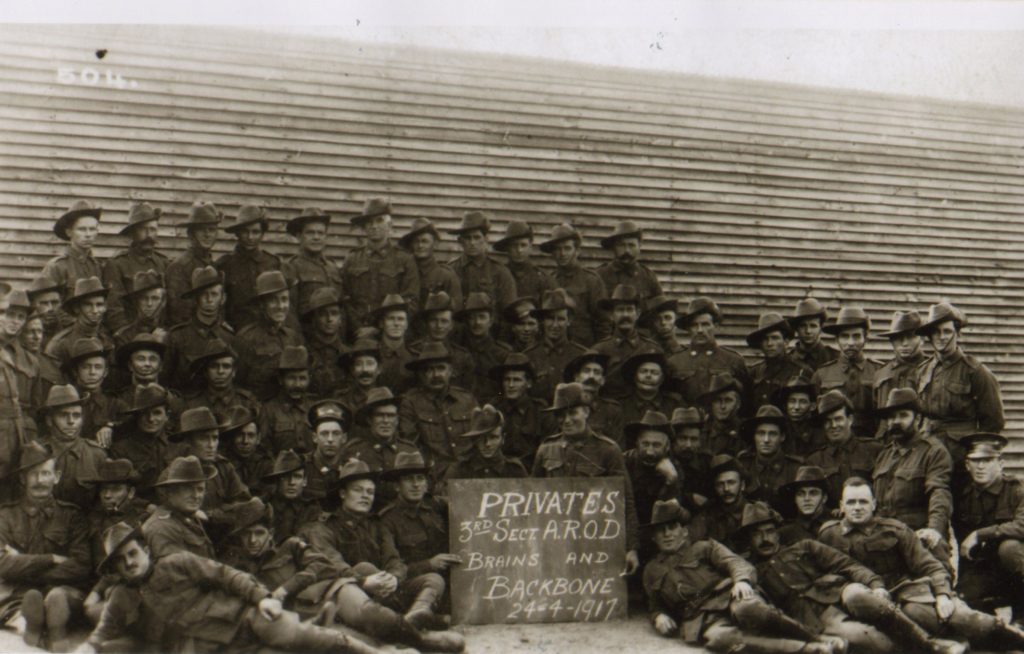 'Author's collection – Courtesy of Mavis Shortland, W.A.'
All Over – the 4th Squadron, Australian Flying Corps, WW1.
On the 10th of November, 1918, the 4th Squadron of the Australian Flying Corps, then based at Ennetiers in France and equipped with 21 serviceable Sopwith Snipes, flew a collective total of 80 hours and 10 minutes of 'war time,' dropped six 25-pound bombs on the enemy, and expended 1,000 rounds of small arms ammunition in strafing the same. An offensive patrol of fourteen aircraft escorting a bombing raid to Hal in the early afternoon observed 3 enemy Fokker Biplanes over Enghien, but it appears that these were not directly engaged.
The following day, Armistice Day as it is now known, just two Snipes flew offensive patrols for a total 'war time' of 1 hour and 45 minutes, and both were back on the ground by 1100 hours when all hostilities were to cease. No enemy aircraft were seen, no bombs dropped on troop or transport concentrations, and no rounds fired. The war was all but over.
Less aggressive activity continued however, as the Squadron (which had previously flown the Sopwith Camel) was one of four chosen to go forward with the Army of Occupation, and flying still posed a danger even without the presence of the enemy, for three days following the Armistice, a pilot, Lt. L.K. Swann died in hospital of his injuries following an aircraft accident on the aerodrome at Ennetieres. Swann, who had earned the Military Medal with the 40th Battalion A.I.F. before being commissioned and trained as a pilot with the A.F.C., had been taken on strength of the 4th Squadron only five days previously. He died of a fractured skull and internal injuries.
The Squadron was stationed at Bickendorf, near Cologne, Germany from mid December, 1918 until March the following year when it began the journey home via the United Kingdom, arriving in Melbourne in mid June, 1919 prior to disbandment.
In its almost three year history, including 11 months of operational experience in France, the Squadron suffered 35 killed and 16 wounded.
[Author – Muddy. References: AWM4 & NAA: B2455 series. Details available upon request].