Every day we read about the need to accelerate the exit of coal from our power supply in the interests of decarbonization to meet a target of emission reduction to keep the heating of the planet down to 1.5C, in case it matters.
So much about that agenda is wrong that it makes my head hurt to think where to start so instead I will speak on behalf of the poor planet which is being grievously wounded by our efforts to get more intermittent wind and solar power into the grid.
Chemotherapy in medical practice is a high-risk strategy to fight cancer while inflicting a deal of collateral damage on the body. Mercifully, medical advances have occurred in recent years and targeted therapies that are available for some cancers can be quite benign compared with the wrecking ball of chemo in the past.
Decisions on medical treatment of course depend on cost/benefit calculations which are bound to be highly conjectural and subjective as well.
Building industrial scale wind and solar facilities can be seen as a kind of chemo for the planet, inflicting some local damage for the sake of the whole thing. However it is all cost and no benefit, except for the people who make money out of wind and solar.
As for the need to worry about climate change over the last century or so, check out the trend in weather-related deaths.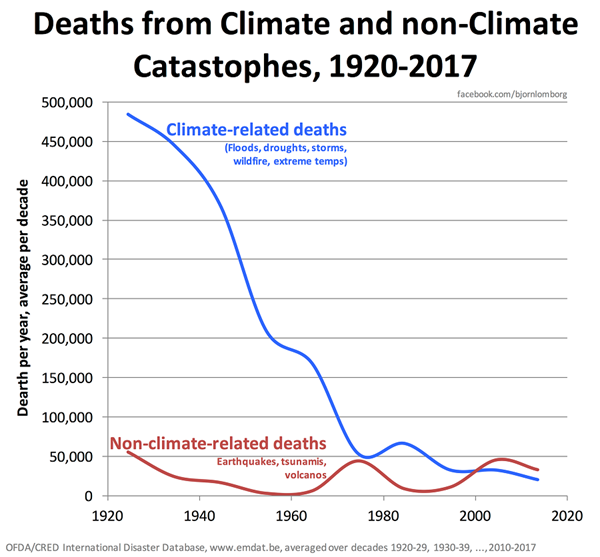 No need to labour the point around here, of course the robust climate science indicates that warming in the last couple of centuries has been unequivocally beneficial and more will be ok except that it is more likely to turn cold. And the plants could do with a whole lot more CO2, after all commercial nurseries amp up the supply by a factor of two or three.
DOWNSIDE OF WIND AND SOLAR POWER
Many good books could be written to describe the carnage to the planet of the wind and solar industries, not just the invasion of farmland and forests but the whole supply chain from mining to disposal of the toxic waste at the end of life.
This collection by my colleague Bill Stinson is a handy source, no need to read it, just keep it handy to enlighten wind and solar devotees. See also the short films of the vandalism by wind facilities in North Queensland in our information pack.