So there I was, sitting down to dinner, and finally turning to the paper, and there, in The Oz, after its idiotic coverage of the protests in Melbourne yesterday, I found this story with the above headline. Amazing, I said to myself, an actually accurate story of what went on. Afraid not. It was a story about Myanmar, but could have been about us. This was the opening para.
Myanmar is in the grips of a silent health crisis … as the junta continues to hunt down pro-democracy medics and block supplies from vulnerable areas.
It's actually the reverse of the front page story about Australia but different juntas, different agendas. Here we are determined to vaxxinate the entire population, there the aim is to prevent vaxxination, but methods aside, the government will not permit any show of opposition. Here we have this instead, from The Age: Melbourne protests fizzle as police turn out in force.
There has been no significant protest action today, with demonstrators failing to gather in significant numbers in the city.

Police were out in force, at first near the CFMEU headquarters on Elizabeth Street in the city this morning, checking the identities and permits of people coming through.
Comes with this picture.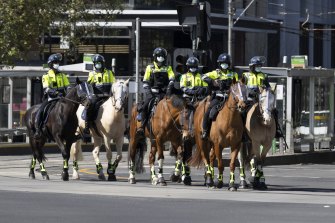 Anyway, "Junta has turned Covid into a weapon" could just as easily apply to Melbourne as Myanmar.