Roundup of Partners and Fellow-Travellers
Drop in and see what they are up to!
IPA Climate and energy program CIS The Sydney Institute
Menzies Research Centre Mannkal Economics Education Foundation
Advance Australia Taxpayers Alliance Australian Institute for Progress
Save these dates
15 December at 6.0 Sydney time. Menzies Research Institute webinar forum for representatives of rural communities faced with wind and solar factories and transmission lines. Register here.
2 February next year, Climate and Energy Forum, at Dee Why RSL (Sydney, northern beaches). Details to be finalized.
Why we must keep the coal fires burning
The figure below indicates the shortfall in energy from the sun and wind over a typical 24-hour period without the contribution of black and brown coal.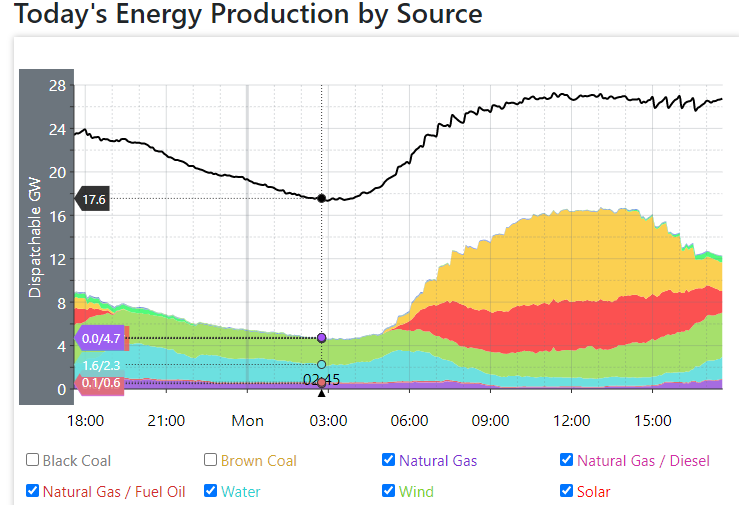 Observe the size of the shortfall between late afternoon and mid-morning. Contemplate the number of extra windmills required to make up the difference with that amount of wind (a bit below average.) When there is a serious wind drought with next to no wind overnight, then no amount of overbuilding will help.
There will always be gaps in the supply of intermittent energy and all of our current conventional power capacity will have to be maintained until nuclear power is available.
The failure of wind power in South Australia
Checking at sunrise, whenever the wind is less than average (CF 29%) SA will most likely be importing power from Victoria and burning a heap of gas as well.
On 1 Dec at 7am Sydney time SA was importing 27% of the demand. Wind CF 36%, well above average.
On 2 Dec at 6.30, importing 10% with wind at 45%!
On 3 Dec at 6am, importing 40% of the demand with wind at 27% .
This morning 4 Dec, only importing 10% with the wind well above average CF at 40%.
It is surprising that SA is rated a great success as the wind-leading state on the basis of the penetration of wind and solar on sunny and breezy Sunday afternoons. The real indicator of the progress that has been made to replace coal is the amount of penetration of wind and solar on windless, or almost windless nights.
Most of the power coming from Victoria is coal power, so what will the South Australians do when Dan Andrews closes down the coal stations?
Jo Nova reports on the industrial wasteland caused by the green dream in Europe.