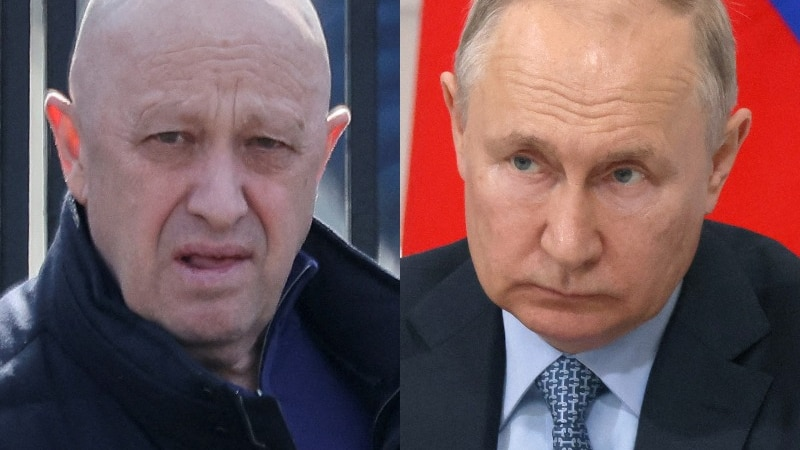 Feel that chill in the air? If you think its frosty in your location, it is frozen solid between Russian President Putin and Wagner chief Prigozhin.
And so it is that we are now one week after the "March of Justice" that saw Evgeny Prigozhin's Wagner Group stage an uprising. But first, a few MSM promoted myths need to be addressed.
When Wagner arrived in Rostov-on-Don, they were not perceived as any more than what they were: Wagner. A large number of people (thousands) delighted in having their photo taken standing next to a tank or a 'Ukraine veteran'. Wagner forces were/are respected for their work in Ukraine and the response by the Rostov residents was not encouragement to overthrow the Government. Far from it.
MSM pundits have been speculating that "Putin's days are numbered". Well, ok, but every person's days are effectively 'numbered' and that includes leaders. So when you say 'numbered', what do you mean? Tomorrow? Next week? Next year? Some time before the turn of the decade? Worthless conjecture.
Western media reports also varied widely on how many Wagner soldiers took part in the March of Justice. Even reports within Russia have offered wide variations but it appears somewhere around 3-4,000, in total depending on whether you mean at the beginning or end. The number at the pointy end of the 780km advance towards Moscow appears to have been just a few hundred. Whatever, it's not enough.
To keep the numbers in perspective: there is a garrison of at least 10,000 regular soldiers in Moscow plus the National Guard (many thousands), several spetsnaz units and assorted security services such as the FSB. And that's just in Moscow itself. The idea that a few hundred, or even a few thousand, soldiers can drive their tanks up Mokhovaya Street, swing right into Red Square and up to the Kremlin gate is ridiculous. (Unless, of course, there had been a total breakdown of the military command structure and civil order had disintegrated – which hadn't happened.)
Prigozhin's March of Justice was a failure. He had no institutional support and indeed, in Prigozhin's own words, had no objective to usurp Putin's authority and that the March of Justice was not, and was never intended to be, a coup attempt.
So, what was the point?
Trivially, we could say that Prigozhin was merely drunk on his perception of his own power. This is partially supported by comments this week by Belarusian President Lukashenko who said that Prigozhin was in a state of "total euphoria" during their first telephone conversation. The grand plan to humiliate Defence Minister Shoigu and Chief of Staff Gerasimov seemed to be working. Indeed, it seems that Prigozhin was banking that Wagner's popularity and fame would lead to an upswell of support for the group. In turn, that would lead the government to acquiesce on the MoD's insistence that Wagner sign contracts to subsume it into the Russian defence forces. No such luck.
Even though Prigozhin's state of mind cannot be confirmed, there is no doubt that folding Wagner into the MoD was the pivotal issue. Why? Because, first and foremost, Wagner is a business from which Prigozhin has made a huge amount of money. In just the past couple of days, President Putin acknowledged that Wagner was funded entirely by the Russian government and they had paid 86 billion rubles (AUD$1.5bn) to Wagner in the past 12 months for military services alone. One of Prigozhin's other companies had received a further 50 billion rubles (AUD$900m) for food, uniforms and other services over an undisclosed period.
Thus, the loss of Wagner from Prigozhin's business stable represented a disastrous financial blow. Coupled with that, Wagner is entirely reliant on the MoD for its supplies of weapons – it has no other reliable source. Therefore, even if Wagner were to return to Africa and resume support for a local warlord or government, if Wagner has been effectively nationalised in Russia, its access to sufficient (and heavy) weapons and other supplies will be at questionable, at best.
So Prigozhin's grand plan was driven in a mist of rage, self-delusion and fear of financial apocalypse.
This is confirmed by Prigozhin's public statement on Tuesday which focused largely on his prime grievance: that Wagner was going to be absorbed into the institutional military. And although unsaid, he gambled while holding a very poor hand.
Now, Wagner soldiers have only three options: sign the MoD contracts and join the Russian military, join Prigozhin in Belarus and await a call from Africa (presumably without their gear*) or, break up and go home.
* The MoD has announced that arrangements were being made for Wagner to hand over the heavy weapons.
One final word on Prigozhin: his power base has taken a huge hit. He was not an elected member of the Russian Duma (Parliament) but his former friendship with Putin lasted decades and allowed him to cultivate his own network. Now, any remaining associates are deserting the Prigozhin 'ship' faster than rats off the Titanic. Coupled with the effective nationalisation of the Wagner Group, and possible other asset seizures, I suggest he needs to keep his mouth in check and be as quiet as a mouse. That or try to avoid men with umbrellas or freestyle base jumping from 10 storey buildings.
What about Putin?
If Putin is damaged, there is no outward sign. Our contacts in Russia report last weekend's events to be 'interesting', but nothing more. There is not the slightest murmur of support for Prigozhin* (although Wagner soldiers are respected) nor any wish to replace Putin. In fact, his approach has been described as calm and measured thereby preventing a possible wider confrontation.
* Russian suspicion and distrust of the West, and the USA in particular, is well known. Some wondered whether Prigozhin had sold out to the CIA in an effort to destabilise Russia. This is just a reflection of a theme on local social media but suggests that any personal support Prigozhin may have enjoyed, however fleeting, has completely evaporated with some questioning how he could be allowed to 'get away with' the downing of Russian Air Force assets and killing of Russian servicemen.
Putin's popularity in Russia would make a western politician blush and was an impressive 63% prior to Russia's invasion of Ukraine whereupon it ripped up to around 82% and has remained. (Putin's approval rating has never been below 59%). His disapproval rating wallows around 14% with the balance undecided. Whether the recent revelation of the money spent on funding Wagner has any impact, remains to be seen.
Even if Putin's popularity takes a hit, Russians recognise that they are personally far better off financially than at any other time in their history. Therefore, Putin continues to enjoy wide support simply because there is no other current politician who Russians believe will advance their lives still further. Just a few days ago, Russia's statistics service Rosstat reported that Russia's real wages to April 2023 were 10.4% higher compared to the same period a year ago. Unemployment for May 2023 was 3.2% and annual inflation is low at 2.5% although it had shifted slightly upwards from the annualised 2.3% reported last month.
Social media app Odnoklassniki is a Russian version of Facebook/Twitter and is hugely popular. If there was any dissent or rumbles of dissatisfaction about Putin, Odnoklassniki would show it. But, nothing. And set aside your thoughts that the FSB will burst through your door if you dare to criticize the State after a whinge on Odnoklassniki about the Government. (Russia is not like Victoria during covid).
So, for Russians, it appears to be a big 'nothing burger' despite how excited or enthralled we in the West may have been. Except of course for those in Rostov who were delighted that the 'Wagner warriors' had come to visit. Along the M4 to Moscow however, it was a different story with small towns off the highway initiating terrorist alerts and blocking their main streets with large concrete blocks. Hardly welcoming.
But it isn't all unicorns and rainbows – Putin is under some pressure. The biggest criticism he faces is in the Kremlin where there are those who say he is too timid in the Ukraine conflict. Putin's near obsession with maintaining normalcy for the people of Russia should be set aside and that Russia should adopt a war footing and deal with the Ukraine issue comprehensively. These individuals believe the Russian effort should extend beyond the four oblasts that Putin declared were the focus of the Special Military Operation.
Is such a thing possible? In theory, of course. Russia has the resources to mount several army groups that could sweep across the Ukraine – but the personnel losses will be monstrous. There is no comparison between the Ukraine conflict and The Great Patriotic War. My interpretation is that many Russians will loudly protest their fathers, brothers and sons being shipped back in boxes by the many tens of thousands in a few short weeks of a full-scale Russian mobilisation. Acceptance of the Ukraine war could evaporate quickly, and Putin knows this.
For the time being, while Russian losses are relatively modest and the Ukraine counter-offensive is suffering severe casualty numbers, Putin is able to easily resist any calls for an increased commitment. Note that Wagner forces had absorbed many of the earlier personnel losses, particularly in taking the Donbass city of Artyomovsk (aka Bakhmut).
Putin's popularity and personal faction in the Kremlin is incredibly strong, although nobody is ever truly invincible. Russian politics is littered with self-interest and competing agendas with external influence injected into the factions by the various oligarchs, many of whom owe their wealth to Putin. I have mentioned previously that Putin is the ultimate puppet-master and at present, any move against him appears to have vanishingly low support. But like any multi-dimensional game, there can be surprises. For the moment however, it seems that for the overwhelming majority of the public, the oligarchs and members of the Duma, life goes on and its business as usual.
Footnotes: At the time of writing, General Sergei Surovikin has 'disappeared'. Surovikin, is/was a deputy commander of Russia's military operations in Ukraine. Last weekend he issued a video appeal for Prigozhin and his men to stand down. But, he has a known close relationship with Prigozhin and there is a suggestion he may have been aware of Prigozhin's plans in advance. Time will tell.
Also, it seems that a handful of government bureaucrats in Moscow were too flighty last Saturday. Apparently some hopped on flights to Georgia, Armenia or Kazakhstan with their families. I understand they will need to adequately explain this sudden whim for external tourism to the security service if they want to keep their jobs.