A recent survey of the Australian electorate appears to indicate a catastrophic defeat is in the sights of the Yes campaign (Newspoll on the weekend had Yes at 43%, No, 46%, and 11% undecided while Essential just today had Yes again at 43, No, 47, and 10 undecided). Here are the results by party, state and location: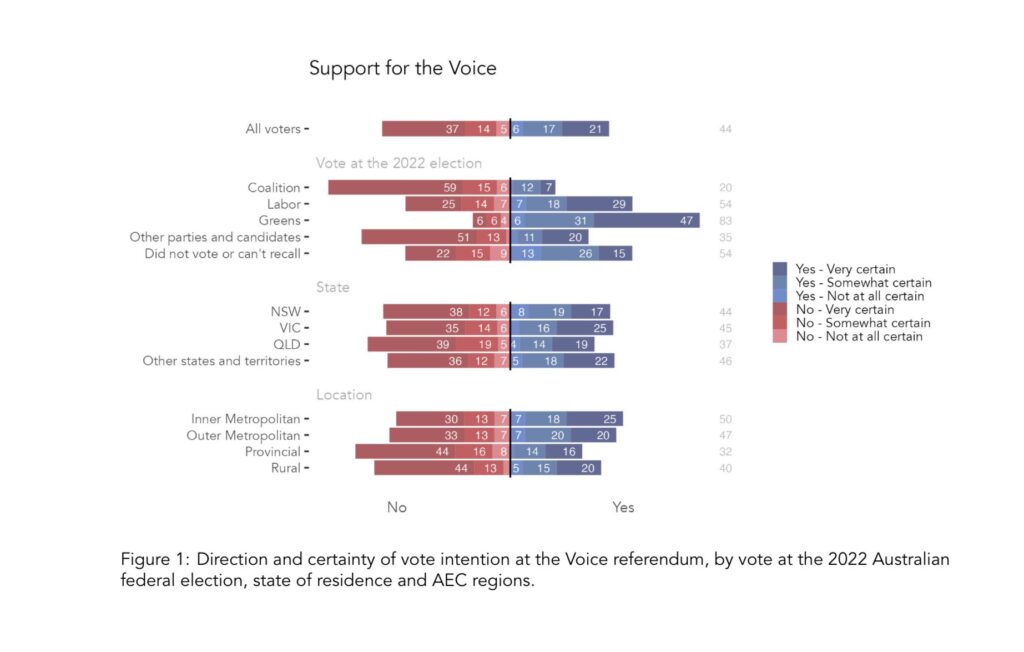 Yes is struggling to maintain even a majority of Labor voters in favour of the Voice. Only a fifth of Coalition voters are supportive of the Voice, and it is doing only a little bit better with parties other than the Coalition, Labor or Greens with only a little over a third supporting the Voice. Not a single state appears to enjoy a majority in favour of the Voice, while by locality, inner Metro is split, outer metro is majority No, while provincial and rural Australia is resoundingly No, with Yes doing even worse in provincial areas (32%) compared to rural (40%). Centre right politics needs to take note of that difference and others regarding its future bases of political support.
By demographic group: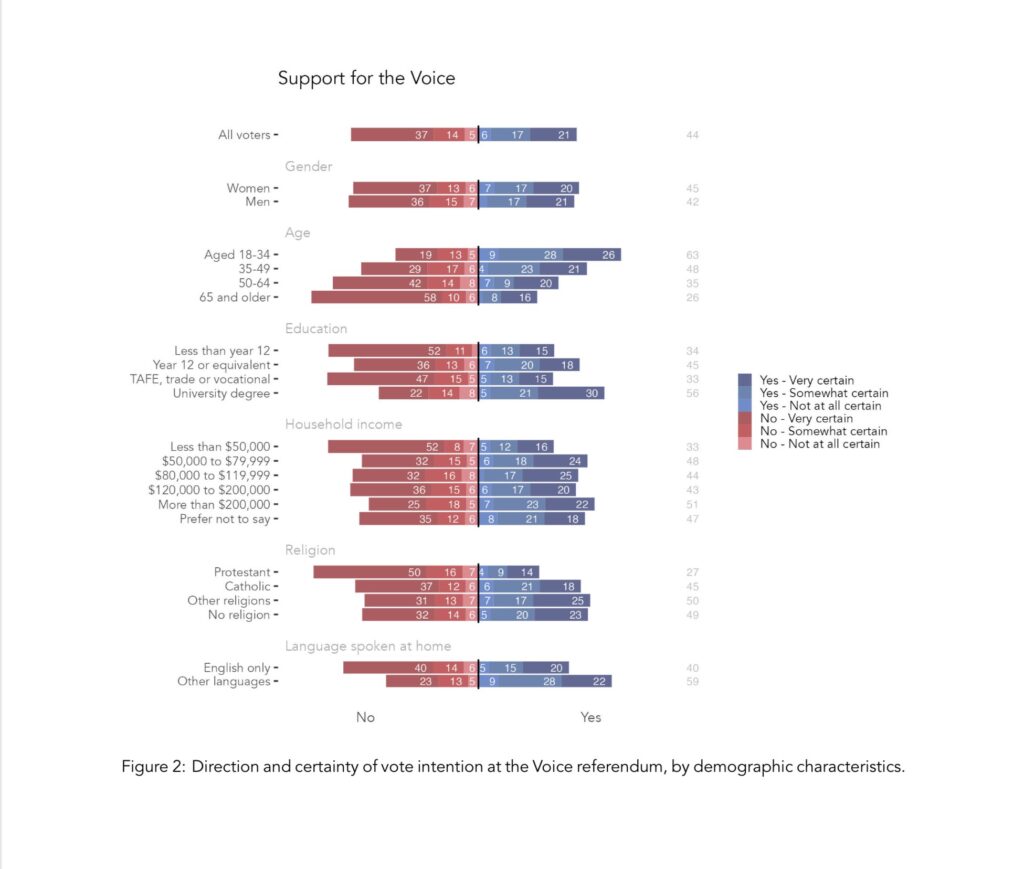 The Voice can't win a majority of women (45), even fewer men (42), manages to win nearly two-thirds of 18-34 yr olds (63) , but only a minority of 35-49 yr olds (48) and just over a third of 50-64 yr olds (35). It has a small majority of university educated (56), but every other educational group it loses convincingly, particularly those with TAFE, trade or vocational qualifications (33). When you look at household income, it only captures a bare majority of those with more than $200K household income. And the pattern there while almost a majority between $50K-$79K (48) gradual declines as household incomes rises, $80K-$199K (44) and again $120K-$200K (43) until we get to the +$200K band. It's probably these two middle bands that you find those households with much of the TAFE, trade or vocational qualifications as well as mixed uni/ other educational qualifications households. The +$200K will very likely have the professional class whose 'culture' more closely alignes with the Yes vote but even here it is a bare majority.
Which gets us to the following explanation given by Kos re the principle cause/s for the terrible results for the Yes campaign:
This explanation isn't at all plausible. If support for the Yes campaign is so sensitive to economic conditions it simply indicates that voting Yes is a luxury signal large demographic segments can't afford in bad economic times. They would prefer the efforts of the professional and political classes being more focused on more pressing issues to the majority of the Australian electorate, like the state of the economy, the prevailing geopolitical environment, and so on. This is simply indicated by the breadth of the No vote across age, education, household, religion, and language groups. And this is leaving aside the fact that grievances can be legitimate, or that Yes, Pay the Rent, and the like are themselves instances of the politics of grievance.