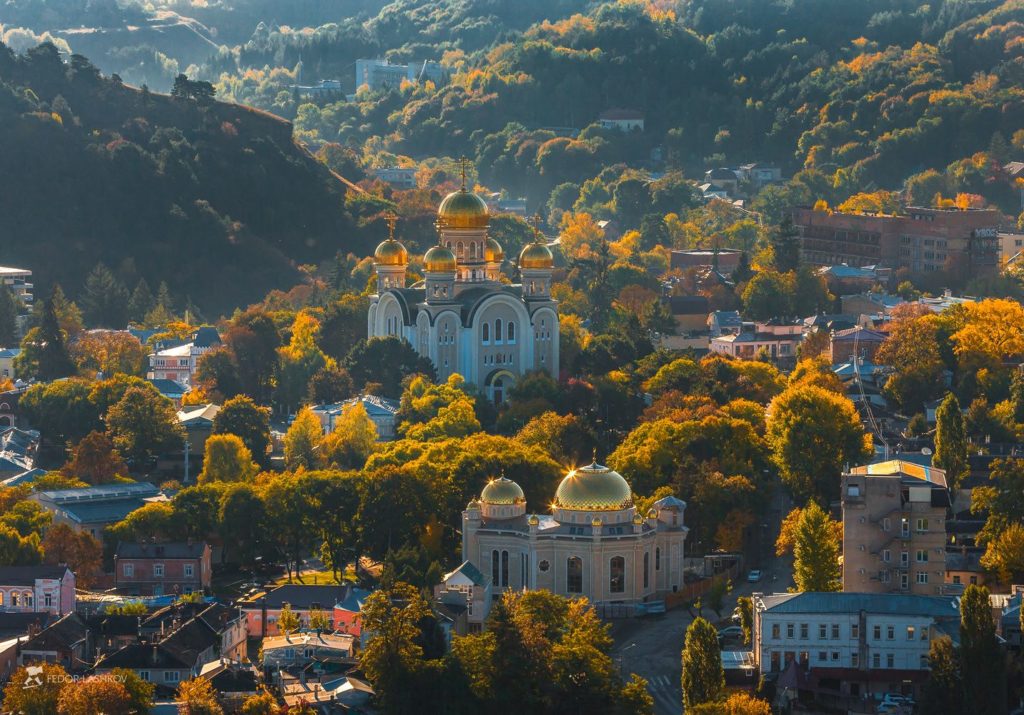 Mrs. Speedbox has been in Russia for the past week following news that her mother had suddenly passed away (heart attack). As Cats will appreciate, organising overseas flights at very short notice in stressful situations can be trying, but the nice people at Emirates had her on a flight (in a good 'private' seat) in less than 24 hours from the news being received.
My wife's mother lived in the small city of Kislovodsk (pop. 140,000) having moved from the frozen north of Russia almost three decades earlier. Kislovodsk is in the North Caucuses region some 1,600 kms due south of Moscow.
Mrs Speedbox will remain in Russia for another couple of weeks but the following observations may be of interest to Cats:
The flight from Brisbane to Dubai was 90-95% full.
The flight from Dubai to Moscow was 100% full with a mixture of people speaking assorted languages, including English.
Mrs Speedbox had to change airports (Domodedovo to Sheremetyevo) to catch a connecting flight. It is very unusual to change airports for the internal flight to Kislovodsk but during the 2 hour taxi ride, she noted that Moscow traffic was as busy as usual.
My wife took Euros to exchange for Roubles. The bank offered only 75 RUB per 1 EUR whereas just three months ago it was around 84 RUB per 1 EUR. If buying EUR with RUB, the bank sell rate is a whopping 110 RUB per 1 EUR. Therefore, convert only what you need and only when you need to.
IKEA closed its stores in Russia but a French IKEA-like company continued to operate its chain of stores. That company enjoyed a substantial spike in sales and IKEA quietly announced a few days ago that it will re-open its stores.
McDonalds may be (currently) closed but Burger King is not – and apparently doing a roaring trade. McDonalds are reportedly losing $US55m per month in sales. Nobody misses Starbucks.
Luxury retailers such as H&M, Fendi, Prada, Hermes, and Chanel have closed their stores but this is an irrelevance to the overwhelming majority of Russians and only impacts those who live in Moscow or St Petersburg. Wealthy Russians who can afford those items will think nothing of travelling to Europe/Turkey/Dubai to buy what they want. In fact, it will be a 'badge of honour' to display such affluence and capability.
During one of our video calls Mrs Speedbox walked around the main town square/CBD of Kislovodsk and it was filled with people. I have been in Kislovodsk a number of times and have never seen it so busy. The shops were trading; there were street musicians; pop-up stalls, local artists painting and selling their wares, the cafes were bustling……if I didn't know for certain my wife was in Russia, I would have said she was in Dam Square in Amsterdam or Alexanderplatz in Berlin. And not a covid face mask to be seen.
Kislovodsk is well known as a tourist destination for its architecture, walking trails in the mountains and in particular, it is one of the largest health destinations in Russia with numerous natural springs and some 45 eco/natural health resorts in the immediate area. A good friend of Mrs Speedbox is a Manager at one of those facilities and she reports that they are fully booked with guests arriving from all over Russia and also, a significant percentage of foreigners.
Enterprising Russians are travelling into Europe and buying large numbers of goods. Want an new Apple phone? Sure, still in its sealed box from Austria/Germany/Turkey etc. Don't even need a power adaptor plug. Want a new Audi, Renault, Toyota etc.? Sure, what colour? Let me check with my dealer in Austria/Germany/Turkey etc. Price will be a little higher than usual.
A friend of Mrs Speedbox is a local dentist. He was initially concerned that specific imported supplies for his dentistry work would become unavailable. Nope. The European manufacturer recently issued a notice to its Russian dental equipment importers that although the manufacturer is deeply concerned with the events in Ukraine, they feel they have a higher duty to the dental health of all people. Therefore, supplies will continue. (never underestimate the power of money).
Mrs Speedbox has many other friends in Kislovodsk and has been canvassing their opinion of current events. Without exception, they are disappointed that the invasion occurred and are genuinely sorry for the Ukrainian people. But, they support the action – even those who are not Putin supporters, and there are many. The consensus is that American meddling in Ukraine and continuous NATO encroachment has 'forced' Putin to act. They are also aware of Ukrainian military activities in the Donbas and the indiscriminate impact on local ethnic Russians. Ukrainian President Zelensky is thought to be a fool who is easily lured by coloured lights and trinkets.
In conclusion, nobody has any concerns about the sanctions and at present, that view is justified as the sanctions do not appear to be having any noticeable impact or alternatively, the impact is nominal (traveller FX notwithstanding). Generally speaking, it appears that the Russian people are going about their lives without any regard for those who have closed their stores or otherwise ceased importing to Russia.
Unsurprisingly, Russian manufacturing, including the outright copying of previously imported goods, continues to gain momentum. (lessons learned from China's modus operandi?). Those manufacturers are certain that no claim for breach of copyright will succeed in any Russian court.
Once again, it appears that the west, and America in particular, do not understand the Russian psyche. Namely, that for the last 70 years or so, Russia has been largely isolated by the west and for its own survival has had to become self-sufficient in virtually any area we can name. And when imported items suddenly disappear from local stores, the average Russian will merely shrug their shoulders and look for an alternative.
Russians are used to this and it is in their DNA to accept and overcome adversity. To be fair, they may not 'be cheering' but nor will they respond like overwrought westerners. Remember when your mother or father told you how Australians used to react to adversity by just 'making do' or that they would just 'get on with it'? That attitude still exists in Russia today and whilst the sanctions may possibly impact some specific areas, you can be certain that the average Russian will barely notice, despite what the MSM will have us believe.