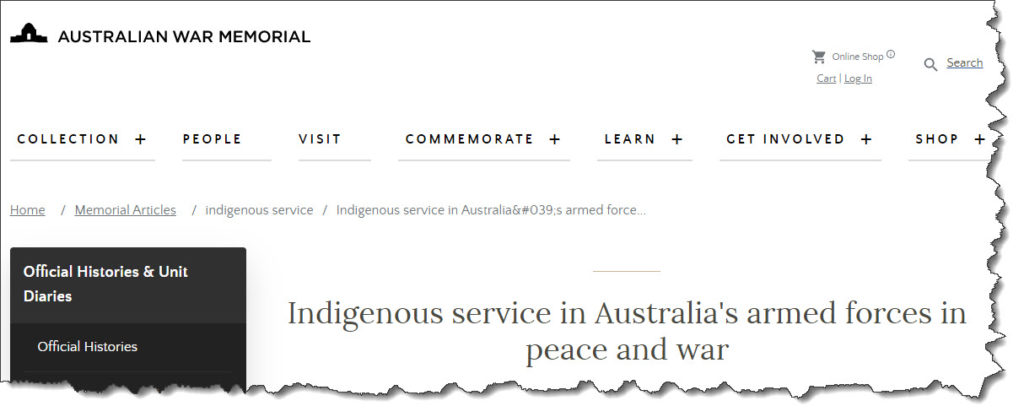 After another week of listening to lies, stacked upon lies, dressed up as reconciliation speeches, I've simply had enough.
It rates as one of the most frustrating experiences of my life to standby and watch the absolute perversion of our history as it is force-fed to well-meaning, but largely historically ignorant audiences, including many new Australians and school kids.
I am more than happy to acknowledge and accept the ugly side of the clash of cultures that occurred in our history. What I am not willing to go along with is blatant lies, and the twisting, of what were often compassionate measures and policy positions, into supposedly evil, racist and divisive dictates.
What bothers me most is what our generation will look like in the eyes of our descendants, if an equivalent distortion is applied 100 years from now. It doesn't bear thinking about.
Given a voice during these events, I'd be able to counter these narratives with solid facts, but unfortunately, I don't have the stage. That leaves me with this blog. I might impart some of the INCREDIBLE lies I've heard during NAIDOC, but to cover them all (and their rebuttal) will take a series of posts. We'll see if I can be bothered.
In the meantime, let's have an entree from a source that we should expect better from, the Australian War Memorial Website.
In a similar vein, Commonwealth policy-makers generally expected that Aboriginal and Torres Strait Islander men (and other men "not substantially of European origin or descent") would be exempted from military service in time of war, and this was codified in a 1910 amendment to the Defence Act 1903. Despite this discrimination, a small number of Indigenous men – perhaps as many as fifteen are now estimated (Michael Bell AWM) to have served in both colonial and federal contingents during the Boer War in South Africa (1899–1902). As of July 2021 this number is 10 confirmed Aboriginal soldiers.

Indigenous service in Australia's armed forces in peace and war
Ok, let's clear up the obvious fallacy here. "Exempted" means that they could not be FORCED to undertake the peacetime militia training and wartime obligations as laid out in the Defence Act 1903 (Conscription!). It doesn't say "Prohibited". It doesn't exclude them from joining, just gives them an out should they not wish to get involved.
There is a strong case here that this was a compassionate clause, rather than a racist one. Imagine rounding up all those Aboriginals who were living a more traditional life, and throwing them into a European-inspired war. I doubt our forefathers could win here. Exempt them, and they were racist. Include them, and they sent them unwillingly to their deaths in a war they had nothing to do with, and couldn't be expected to understand.
When the First World War (1914–18) began, Australia used general enlistment to raise the Australian Imperial Force, separate to its home defence forces, and sent this overseas. Although the "substantially of European origin" rule still applied in recruiting for the AIF, many Aboriginal and Torres Strait Islander people were still accepted for enlistment, apparently because their racial background was overlooked if they had not lived in a tribal environment. Even a few "full-blooded" Indigenous Australians (like Douglas Grant 6020 and William Joseph Punch 5435) were accepted because they had been raised in white households. In 1917 the rule was modified to accept men who could satisfy a medical officer that they had "one parent of European origin".

Indigenous service in Australia's armed forces in peace and war
We'll shortly have a look at the clause in question, but note the surprise that "a few full-blooded Indigenous" got through. The reason? Easy! Despite the inferences, there was no official impediment in the Act.
Also note that I've searched all the amendments to the Defence Act from its inception in 1903 up until 1970, and I CAN NOT find any reference to a statement that even remotely refers to "one parent of European origin". I would like to see a reference for this statement.
In fact, on another webpage they actually state:
Before 1980, individuals enlisting in the defence forces were not asked whether or not they were of an Indigenous background.

Indigenous Defence Service
So they were apparently restricted from joining, but there was nothing on their enlistment form to identify them? Not very government-like, if they were trying to discriminate.
The relevant section of the act: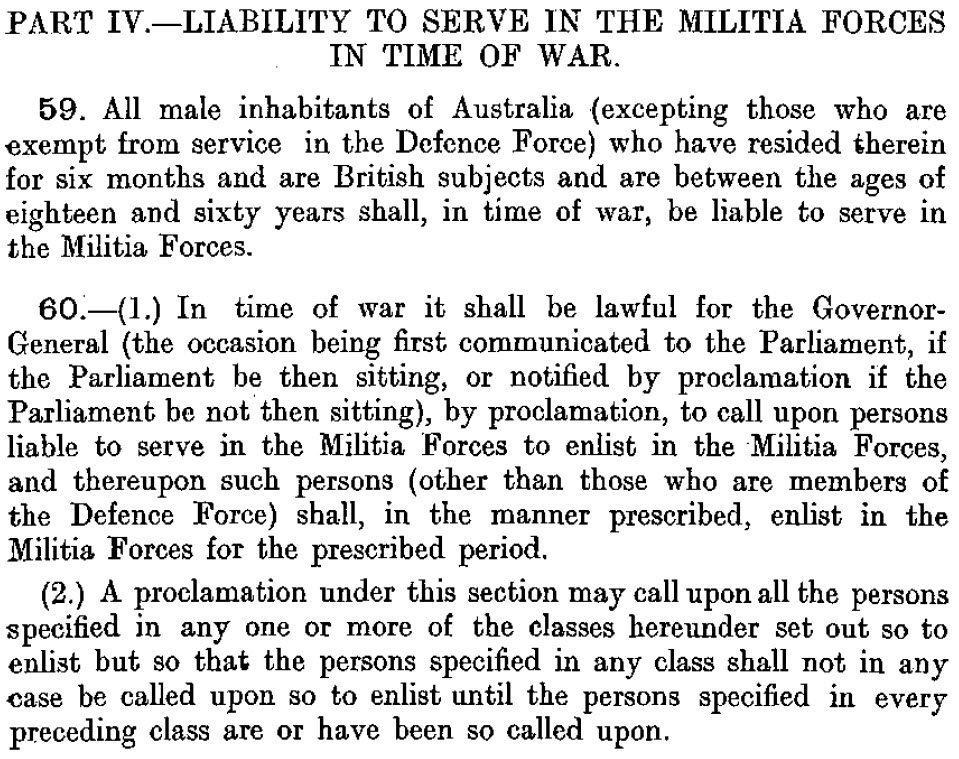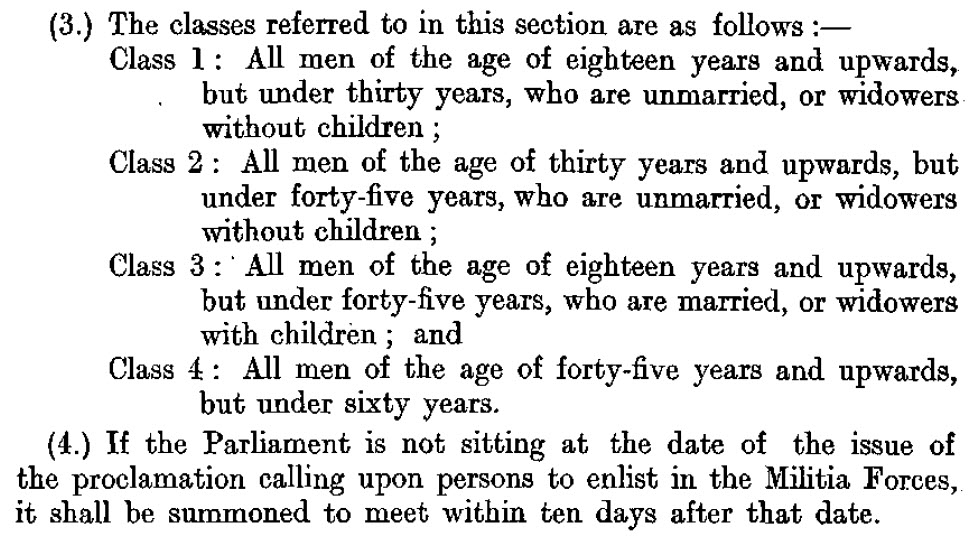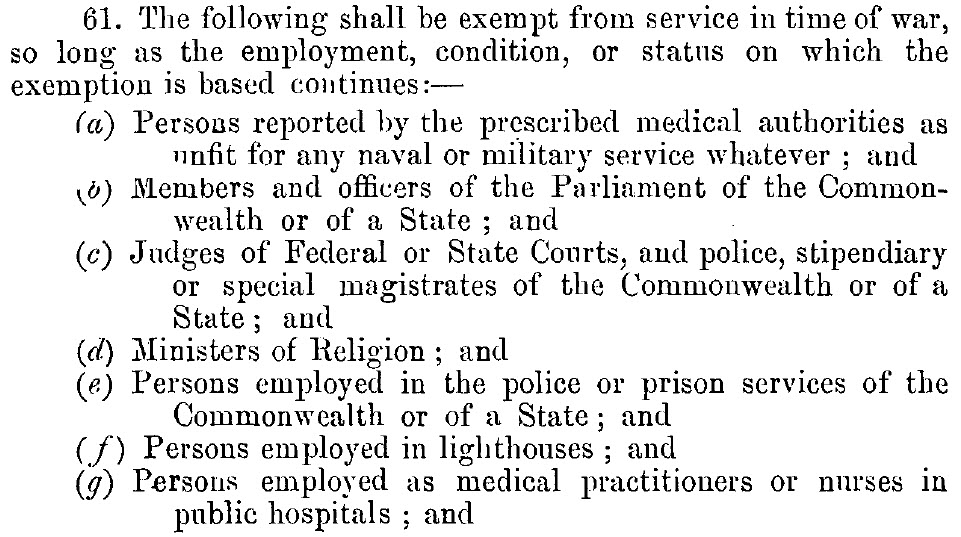 If the narrative from the AWM holds water, all police, judges, ministers, doctors, etc were also prohibited from joining up. That wasn't the case.
The truth is, far from being racist, this is the sort of positive discrimination which is so often applauded by the Left in 2022. Essentially, Aboriginals had the freedom to join, but no obligation (perhaps out of respect for their culture).
Similar errors and incorrect inferences pervade the AWM's website. One should expect not to see such things from this institution. A complete 'fact check' should be run over their entire indigenous service section…out of respect for those that served. All of them.