It's becoming quite clear there will be a push for large numbers of current inmates to be released from jails as the new drip, drip of the campaign emerges.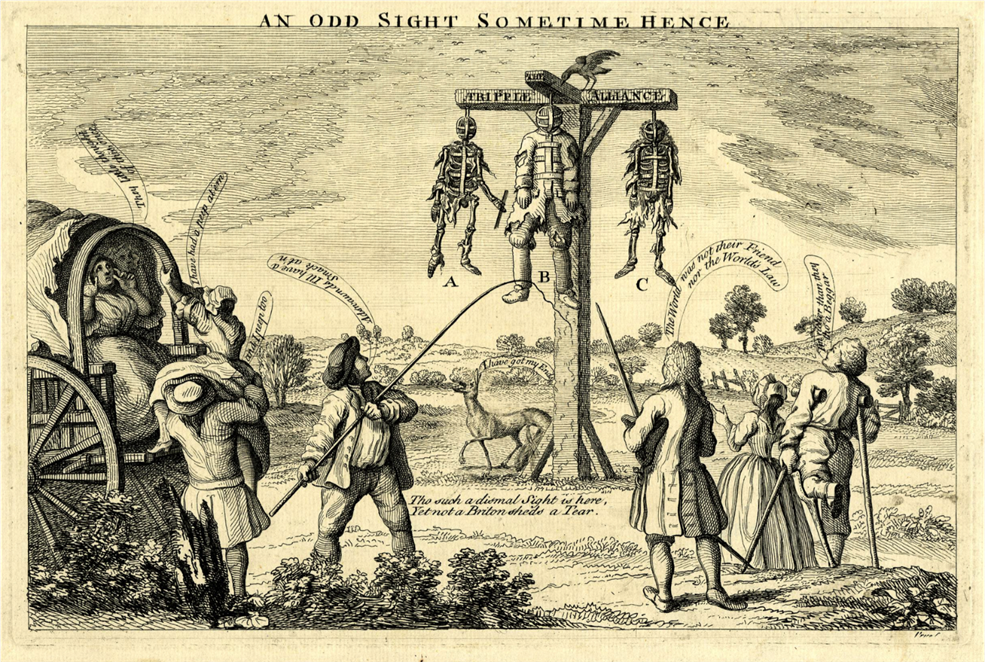 Led by the assistant Treasurer Andrew Leigh it will be presented as a pragmatic budgetary exercise, saving millions of dollars as non violent crims are released or diverted from prison.
Australia could free a third of its prisoners with little risk to community, new research finds
Exclusive: Study says reduced incarceration of non-violent offenders can deliver savings to taxpayers and get more people into work
Andrew Leigh's own uni thesis was on de-incarceration, making much the same arguments that it would be an economic plus.
In his own article for the Guardian, Leigh makes much of crime rates going down "despite" more people committing crime being locked up. Rather than drawing the obvious conclusion, that more crims disabled by incarceration = less crime he has a much more fantastic view; that is, that large numbers of crims in jail and lower crime rates shows too many are in jail.
Anyway, I'll fisk this particular article as it's the most recent in the steady "It's the responsible thing to do" propaganda campaign.
Australia's prison population could be reduced by one-third with little risk to community safety, according to research conducted for the Institute of Public Affairs.
The research paper by Prof Mirko Bagaric, the dean of law at the Swinburne University of Technology, recommends law reform to prevent imprisonment of non-violent offenders.
It adds to calls from Labor's assistant treasury minister, Andrew Leigh, and the Committee for the Economic Development of Australia to tackle Australia's rising incarceration rates, particularly among women and Indigenous women.
….
People are jailed after they commit crimes. If groups (such as men as a whole) commit offences deserving of being disabled from society then that's what happens.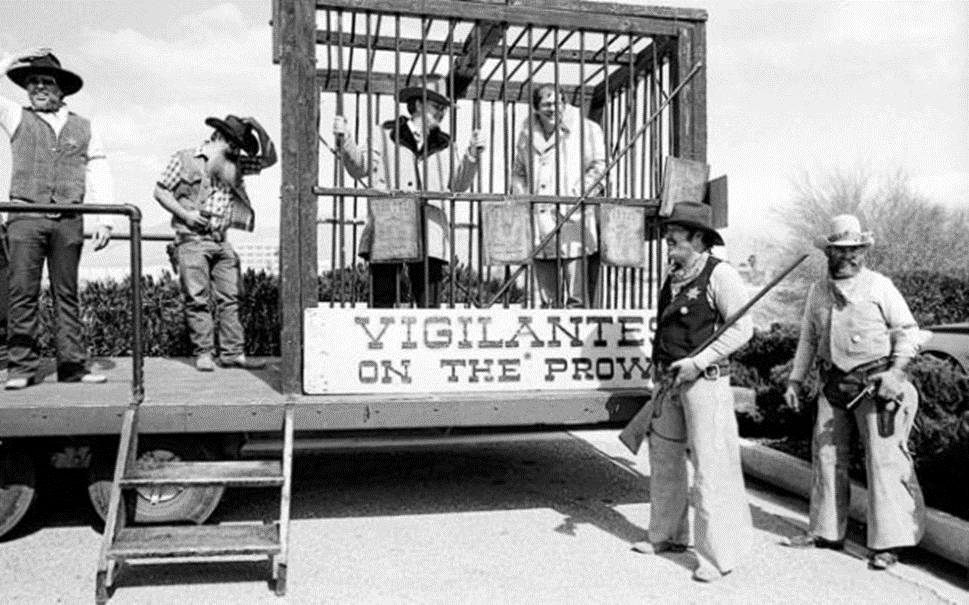 …
Bagaric cites Australian Bureau of Statistics figures that show Australia's incarceration rate now sits at 214 prisoners per 100,000 adult population, a near-record high.
Since a low in 1984, Australia's incarceration rate has increased by over 4% a year, three times faster than the growth in the general population.
Three graphs to show the problem they are "solving'.
First, the 30 year crimes reported rate.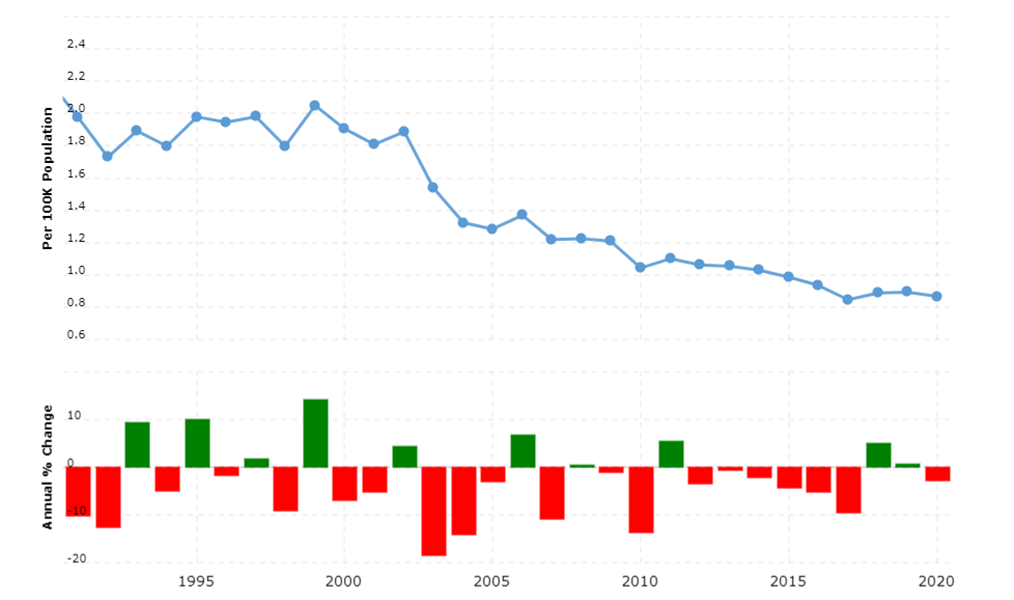 Second the imprisonment rate (from the productivity report, which decided to chuck homicides as its level to measure crime against in the graphic).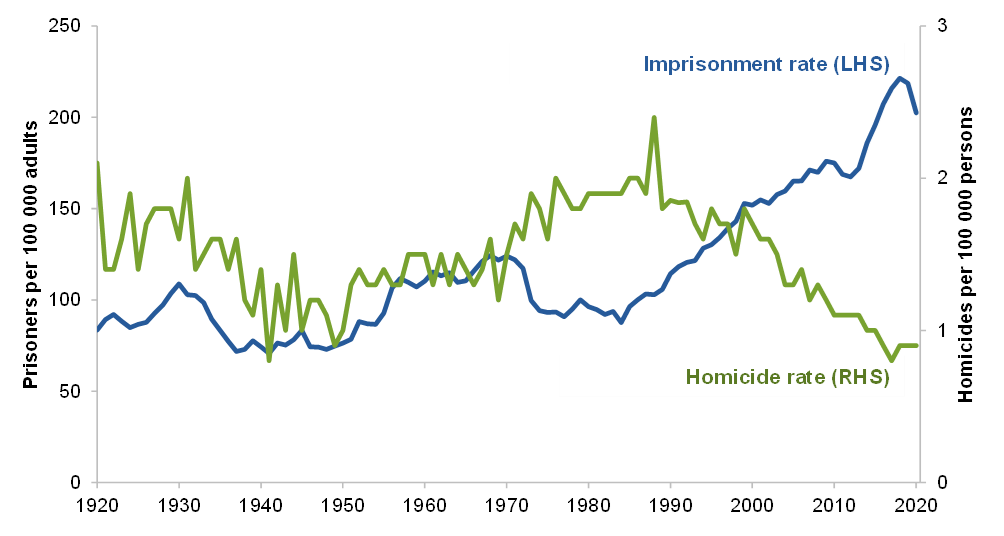 Thirdly, what are the non violent offences which they claim can be release without negative impact on society? This is from the Aboriginal figures.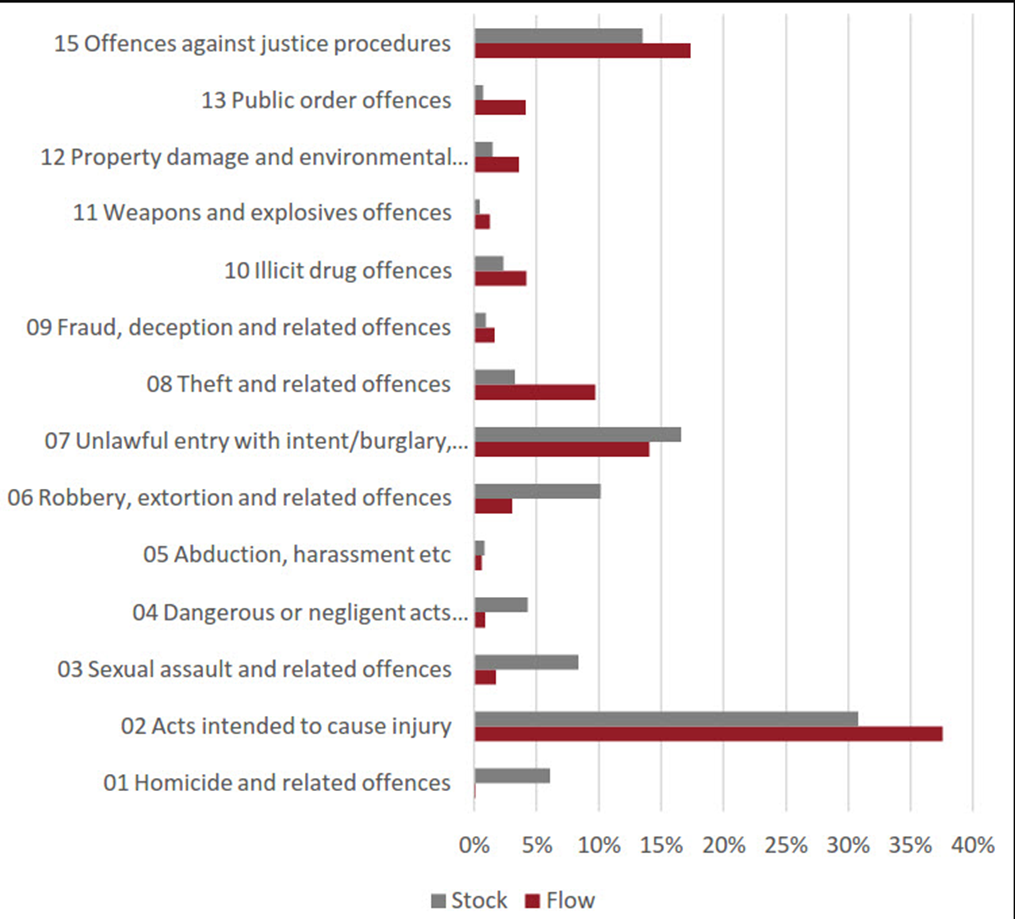 From the productivity commission report.
The overall offender rate (total offenders proceeded against by police per 100 000 population) fell by 18 per cent between 2008?09 and 2019?20, while the imprisonment rate rose by 25 per cent over the same period
In effect the increase in incarceration matched the reduction in crime, add in that in many cases one prisoner may in many cases (particularly burglary) may be responsible for dozens of offences before incarceration and there is a definite trend, more crims disabled = less crime.
Further confirmation here in its findings.
The literature has consistently found that incapacitation through incarceration leads to significant reductions in crime. The estimated effect of incapacitation from changes in sentencing policy ranges widely between 2.8 to 15 crimes per year of incarceration depending on the type of crime and the cohort of offenders
…
After that lengthy digression I think it can be shown in very broad terms:
1: More offenders in prison = less offending
2: The majority of people they are saying can be released from prison are not 'one offs' but habitual or spree offenders who have been caught and convicted of multiple crimes to cause their incarceration.
https://www.aic.gov.au/sites/default/files/2020-05/tandi247.pdf
…
In 2020-21, Australia's spent about $4bn on prisons, at a cost to a taxpayer of each prisoner a year of $375 a day or $136,875 a year, the paper said.
Bagaric noted that 42% of prisoners have not committed a violent or sexual offence. He calculated a reduction in the prison population of about one-third would be possible even if the 10% of offenders who have committed serious property crime or serious drug offences remained in prison.
"In revenue terms, this would result in an annual taxpayers saving of approximately $1.25bn," the report said.
…
This "saving" is apparently based on transferring the cost of prison to the insurance industry & private citizens.
Here are a couple of figures which estimate the cost of non violent offences:
Robbery
Total for robbery: $600 million (overall) $3,600 per robbery
Burglary
Total for burglary: $2,430 million (overall) $2,400 per burglary $2,000 per residential burglary $4,500 per non-residential burglary
Theft of Vehicles
Total for theft of vehicles: $880 million $6,000 per theft of vehicle
Theft from Vehicles
Total for theft from vehicles: $530 million $550 per theft from vehicle
Shop Theft
Total for shop theft: $810 million $110 per shop theft
Other Theft and Handling
Total for other theft: $640 million $360 per theft
Criminal Damage
Total for criminal damage: $1,340 million $700 per incident of criminal damage
Fraud
Total for fraud: $5,880 million
Drug Offences
Total for drug offences: $1,960 million
Total for all "victimless" crimes.. I've excluded arson which was huge, but most of them are sent away despite it largely being a property crime.
$12,640 million dollars
Or a lazy $12 Billion.
Now obviously this is the total for crimes committed, but if I was to return to a, lets say year 2000 crime rate and assume the number of crimes remained consistent..
Roughly 1.9 (but ill call it 1.8 to make it easy) in 2000 vs .8 as the rate for 2020
So in effect 1/3 more crime should have taken place, giving a new figure for costs of "victimless' crime of $16,811 million, or $4,171 million more.
In effect the proposition that releasing large numbers of convicted non violent offenders is a cost benefit is making the somewhat heroic assumption that offending will at ¼ of the rate it would otherwise be. (Ive ignored inflation for these figures)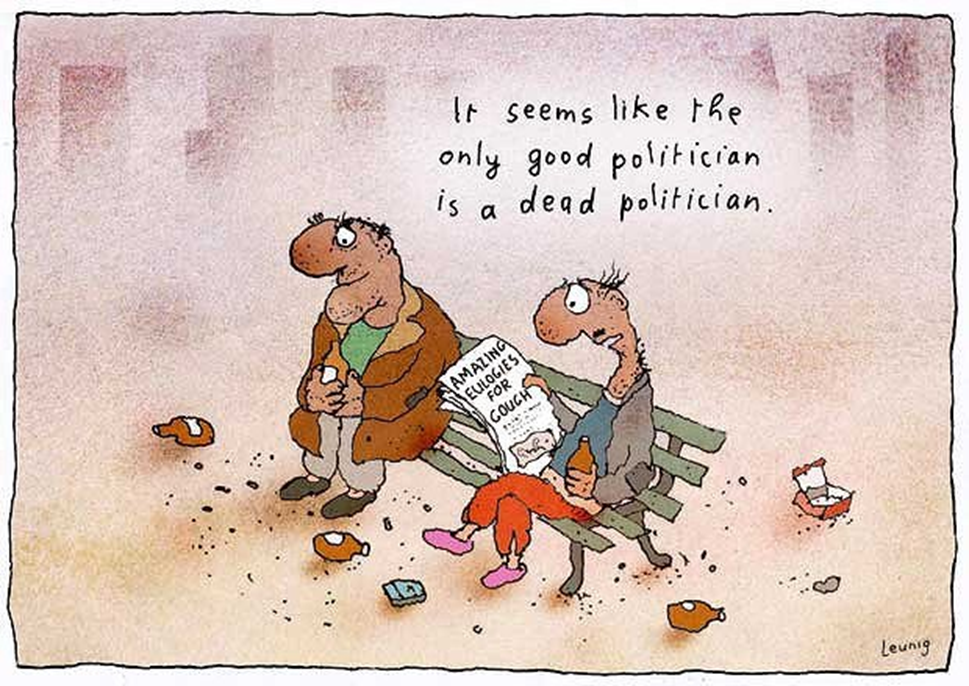 The duck botherer gets it right from time to time.
…
Bagaric, an expert in punishment, reviewed academic literature on the principles of sentencing, concluding there was "no basis" for thinking harsh sentences could deter specific offenders, "There remains considerable uncertainty on the capacity of the sentencing system to rehabilitate offenders," he said, citing rising rates of reoffending.
He proposed abandoning the pursuit of "unattainable sentencing aims" and instead aim for more proportional sentences, that is, that "the punishment should be matched by the harm caused by offence".
…
I actually agree with him on this, but he may not like it. If I steal someone earning $30 an hour (after tax/ living expenses) vehicle worth $10,000 and write it off I have effectively enslaved them for 333 hours of their lives.
I want those 333 hours paid back.
Prison or a HECS type reimbursement would be nice.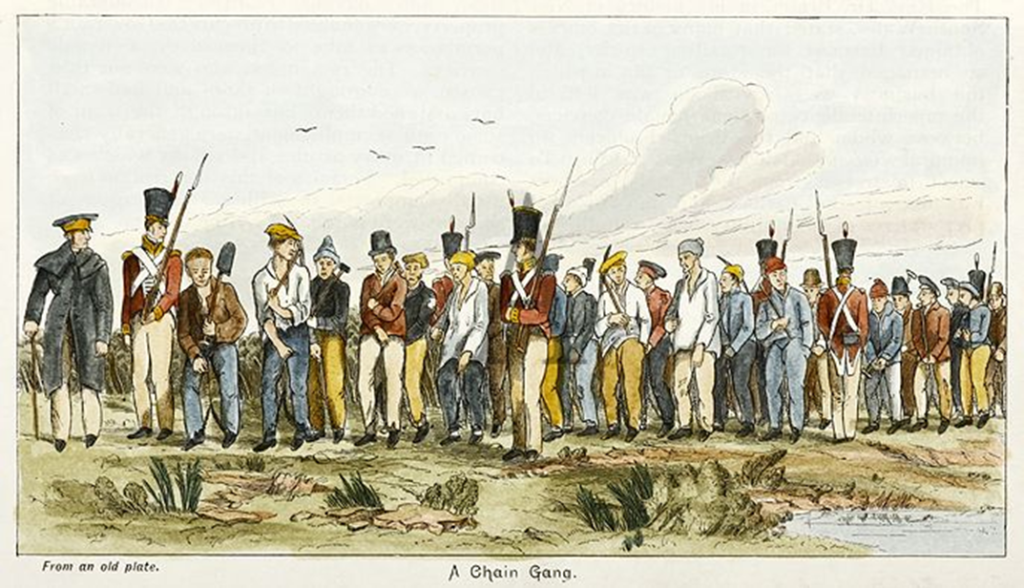 My modest revitalised HECS system…
….
Labor's national platform states that incarceration "fails to reduce recidivism, provide effective outcomes for victims of crime or to make our communities safe", promising federal Labor will work with states and territories to pursue "evidence-based criminal justice policies … which rely less on high cost and harmful prisons".
…
High cost until you look at the cost of not having offenders physically unable to commit crimes.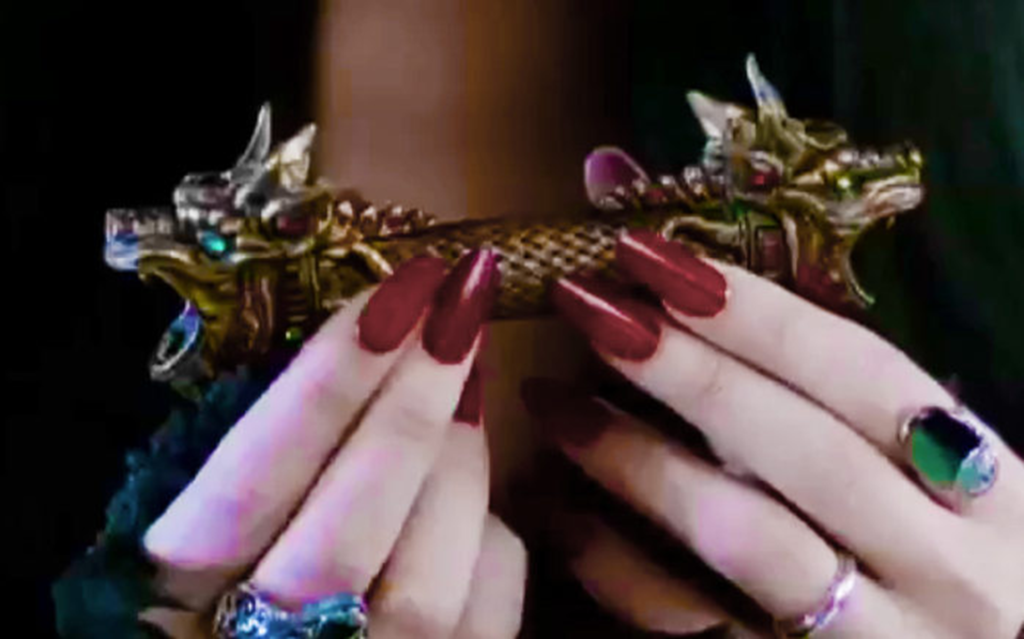 Bail, but you must wear the new, improved finger bracelet.
…
The US has recently experienced declines in the prison population, with some of the biggest declines in liberal states in the north-east.
Both the IPA and Leigh also cited Texas as another success, where Leigh said there is "a bipartisan recognition by Republicans and Democrats that higher incarceration means higher taxes".
Bargaric said "the experience in the US of the past decade shows that incarceration numbers can be reduced without compromising community safety, and in a way which delivers savings to the government budget bottom line and gets more people into work."
….
I think its likely the IPA is succumbing to a bit of 'noble cause" corruption here.
Where reform is greatly needed, and should also reduce numbers quite a bit is reducing the number of people on remand.
Its an absolute load of wank that so many people are awaiting trial. Most will be found guilty, but while on remand are effectively locked out of most of the programs (drug/education etc) which prisoners can access.
In short it is likely bulk de incarceration would lead to a pretty severe quality of life issue for many ordinary Australians, with property crime steeply increasing and nuisance crime also becoming more commonplace.
An example would be the laws around public drunkenness/ hoboism – does anyone think allowing homeless to take over inner city alleyways and parks has made life better for anyone concerned?
And then there will be the awful side effect of possible vigilantism and people deciding since there is no law protecting their items there should be no law protecting the offenders either. It's the basic reason you see horrendous footage from countries with little law presence. The law protects offenders more than the citizens.
Official crime dropped, but the public wore the cost.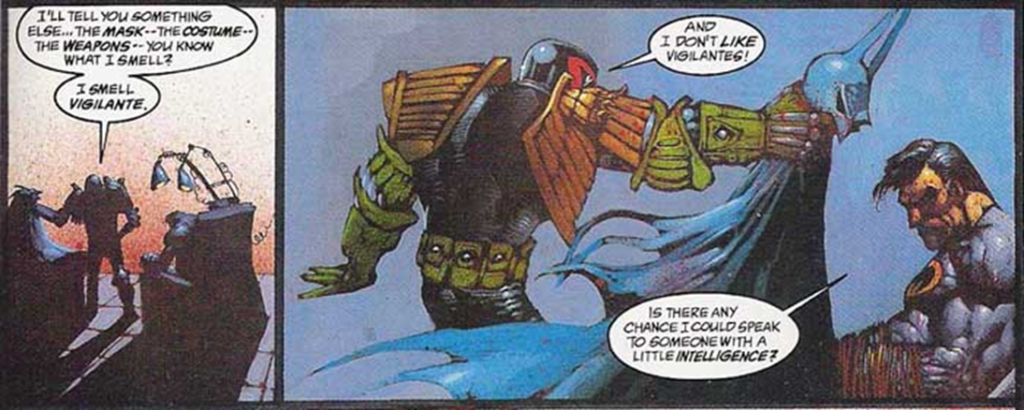 Oh for an honest debate, instead of stage managed assholes stroking each other to an already prepared ministerial announcement…
..
The topic itself is huge, way larger than a simple "more/less people in jail = more/less crime, but we have states for a reason, and it should be a brave state leading the way so the rest can watch and learn and emulate what works and what doesn't.
Rather than some grand Federal "one size fits all" approach designed, in a large part, to hide the inevitable problems.
Comment away.