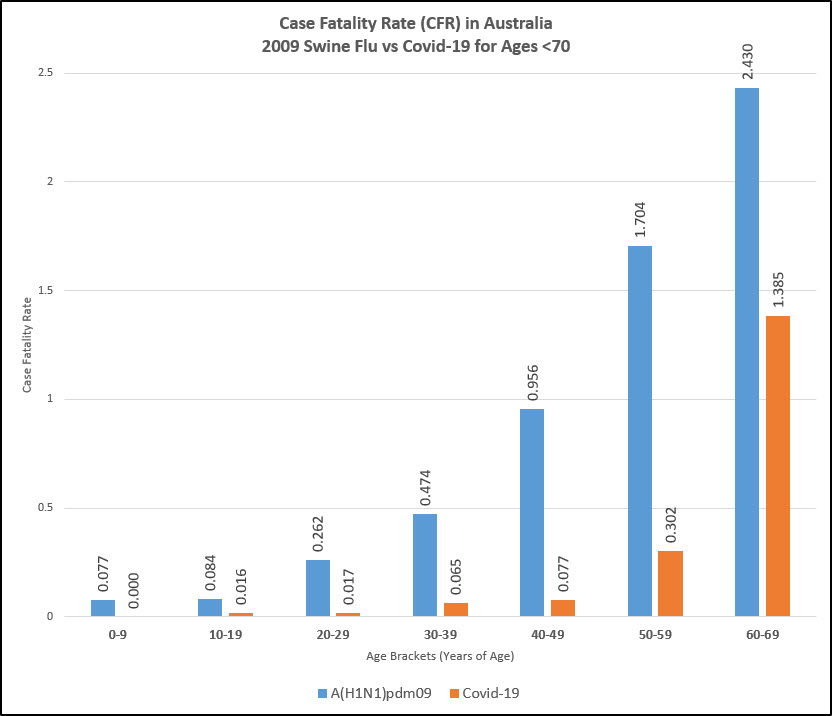 References:
I'll let the graph do most of the talking, but it's important to note that the age group <70 years of age represents 89% of the population. The demographic that also tends to die less through natural attrition (but that's for another post).
From this, it can be seen that the risk of dying from the 2009 Swine Flu in Australia (if you contracted it) was anywhere between 1.75 -15 times greater than for Covid-19, if you are/were below 70 years of age. What posed a greater risk to the future of this country?
In about 4 months, we had roughly 37,000 cases of Swine Flu doing this, yet in 18 months Covid has racked up around 50,000. What should have caused the most panic?
Did they lock us down? Were we subjected to tyranny? Were Parliaments suspended? Did we have curfews? Were we divided up into 'essentials' and 'non-essentials'? Was our country split into parts? Could police randomly demand ID when walking in the street? Were we put under house arrest? Were our kids denied a proper education for at least 18 months? Did we rack up hundreds of billions of dollars of debt, money that could have solved a lot of problems in this country?
No. We are being taken for a ride, and it seems most are happy to strap in and put their helmets on for it. It's unbelievable.