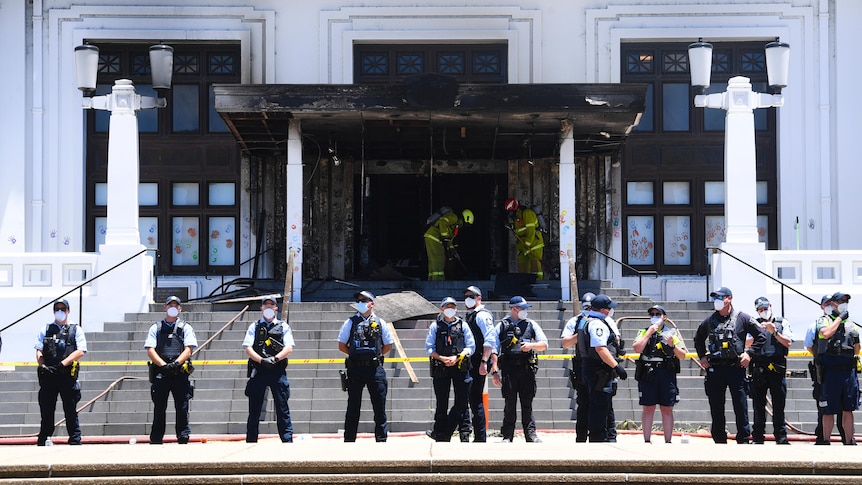 The Australian left are as stupid as the American left and just as vicious and malicious. This may be the most disgusting story I may have ever come across in Australia in many years: Old Parliament House's front door set on fire a second time as protests in Canberra continue. Not even for the first time, but the second time. And if it is the second time, this was no accident but deliberate. What a repulsive lot these people are. I found this particularly striking.
Commander Linda Champion from the Australian Federal Police said the fire likely began during a smoking ceremony performed by protesters, which police were aware of and had approved to occur.

"There was a small smoking ceremony and that is something that we had agreed with a lot of the members who were attending each day as part of a peaceful protest," she said.

"It then became a little bit out of hand and then when ACT police went to respond, that's when it was greatly exacerbated."
A smoking ceremony! In North America I can sort of see the point, since that is where tobacco comes from, peace pipes and all. But here? Such an unimaginative lot who have no ideas other than to destroy, with no concept whatsoever what it takes to build or to cherish one's heritage and history, never mind the source of our freedoms and prosperity.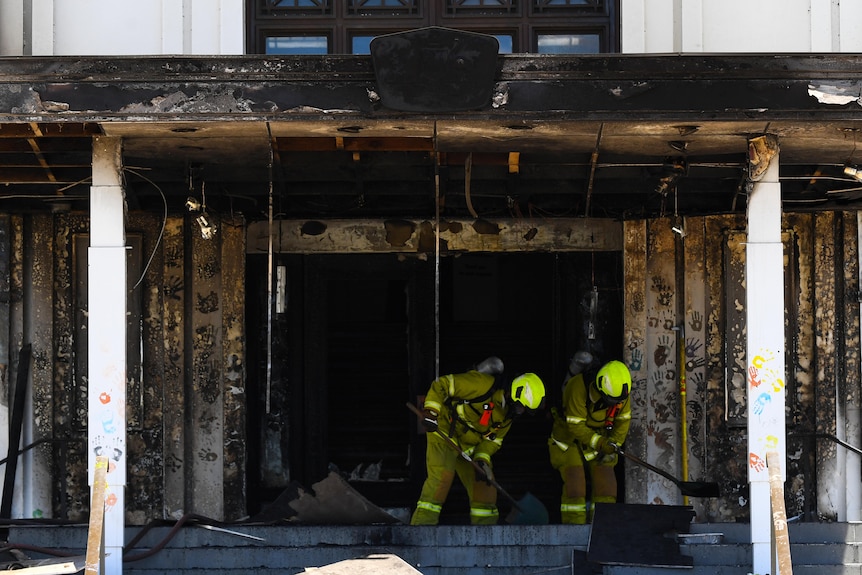 Firefighters clean up the fire-damaged entrance to Old Parliament House
Let me bring this added detail up from the comments with much gratitude to Cliff Boof. I knew none of this which will teach once again never to depend on the media to keep me aware of what's going on.
"The Australian" reports that no arrests have been made.

On 10 August 2021 activists representing Extinction Rebellion committed acts of vandalism in Canberra. On 24 August, four of the activists had all charges "proven but dismissed" by Magistrate James Stewart. Magistrate Stewart remarked to one of the activists, Eric "Sergeio" Herbert, "Your actions arose out of peaceful demonstration to further local, commonwealth and world attention to climate change and the inevitable effects it will have on the world community". Canberra 'Duty of Care' rebels have court cases dismissed or given $20 fines – Extinction Rebellion Australia (ausrebellion.earth)
The above link includes the following statement attributed to Herbert: "Today in the ACT court of law it has been reaffirmed that property damage and public disruption in this rebellion are required to enforce the law and protect the occupants of this land. This outcome has provided me with the unimpeachable understanding that the ACT Judiciary are willing to stand behind us as we enact our lawful indispensable duty to bring down this government through. That is our Duty of Care."

So it will be interesting to see, if arrests are eventually made, how the ACT judiciary will react.

P.S. This bloke Herbert tried a similar trick in Newcastle a month later and was arrested but unfortunately for him Mark Latham's missus was the Magistrate.