Open Thread – Weekend 17 Dec 2022
---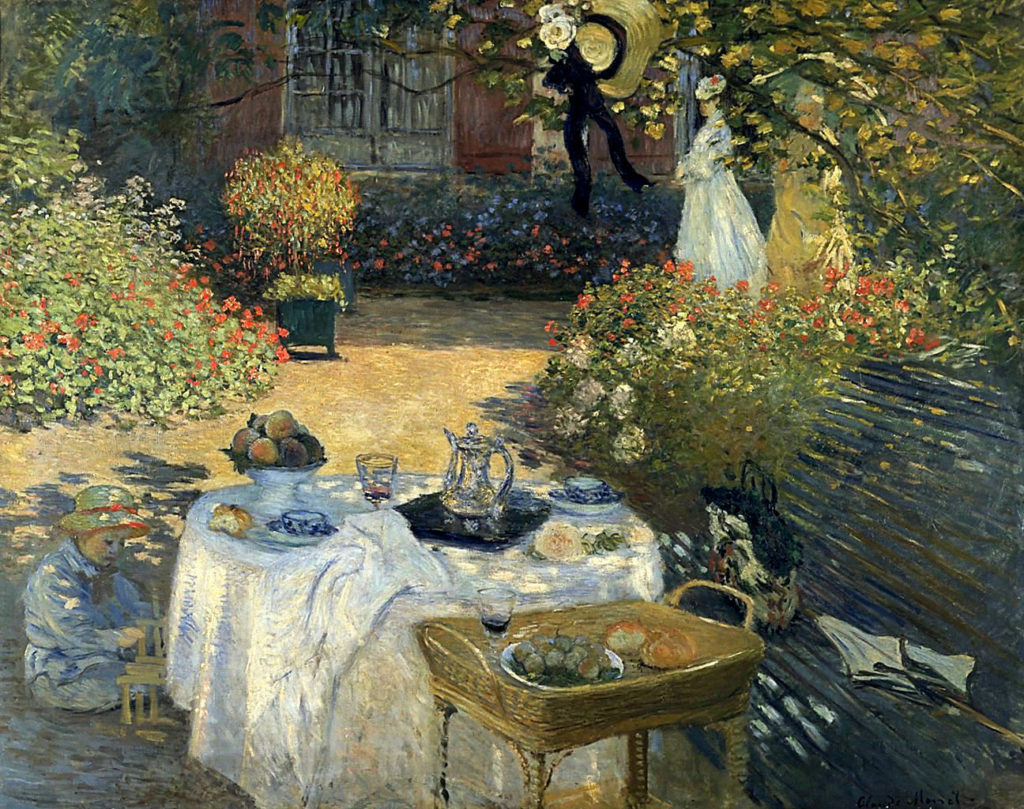 The Luncheon, Claude Monet, 1873
---
Interesting how private firearm ownership is almost simultaneously back in the spotlight in all Western countries.

It's like someone sent out a memo.

been like that for a long time- I've heard the Columbia school of germalism is one central point that coordinates globalist assaults on freedom and people's livelihoods

Zipstersays:
December 19, 2022 at 6:19 pm
The future farms would be hooked into energy grids on the mainland in Gippsland and Latrobe valley, with the potential to provide 10 gigawatts a year of wind power.

or 27.4 megawatts a day at best. big fucking whoop!

Deceiving the innumerate, like the reference I found recently to a "big Battery" being able to provide 2000 MW seconds (assuming it is fully charged when needed).

In my view, Covid and/or the Covid vaxxes may be precipitating variables – in some cases, given some conditions, and given that all other factors are equal across a study population (which of course they mostly are not).

Perhaps I should have added to this: in other words, you are going to be pushing excrement uphill to try and prove anything very much in terms of admissible evidence via 'studies' re any longer term effects.

Carnarvon crime crisis: Police Minister Paul Papalia says issues cannot be solved 'by policing alone'
Headshot of Shannon Hampton
Shannon Hampton
The West Australian
Mon, 19 December 2022 12:06PM

Police Minister Paul Papalia says Carnarvon's crime crisis "cannot be fixed by policing alone" and hundreds of years of "disadvantage, disempowerment and dysfunction" was to blame for towns with "disproportionate rates of Aboriginal juvenile offending".

Mr Papalia's comments on Monday came as North West Central MP Merome Beard, who lives in Carnarvon, said she would personally plead with Mark McGowan to visit the town to see the issues for himself before Christmas.

The Nationals MP said residents of her hometown were too frightened to leave their own homes, and wants more police, safe places for troubled youth who are running the streets and help for fatigued support workers over the summer period.

As reported by The West Australian, Carnarvon leaders have warned of looming vigilantism as angry residents grow tired of being bashed by children as young as eight and having their homes burgled.

Other concerning stories have also emerged, including that a young boy was having bowel problems because he was one of several youths selling their bodies on the street to fuel drug habits. A 14-year-old girl had been recently rushed to hospital for a breech birth.

And a local doctor is about to leave town after having a concrete block through his car with his children inside, while police cars are being smashed up while they attend incidents.

Shire of Carnarvon chief executive Andrea Selvey told The West, "This is not about Carnarvon being a bad place, it's about how (State and Federal Governments) have failed us".

Responding to the report, and claims locals feel forgotten and ignored, Mr Papalia said Operational Regional Shield, which had been set up to target acute juvenile crime in the regions, was available and had been sent to Carnarvon.

However, Mr Papalia said the strategy, which injects more officers and resources into areas when needed, was not operational at the moment because "the local police are dealing with the challenge they are confronted (with)".

He added: "One of the things that that story focused on, without saying it, is Aboriginal juvenile offending.

"The challenge that we confront, particularly in the regions, but everywhere with high rates, disproportionate rates of Aboriginal juvenile offending, is a result of 200 years plus of disadvantage, disempowerment and dysfunction in communities.

"It's understandable that what happens, happens.

"It's not excusable, but it also won't be resolved overnight by any one person, or any one agency and cannot be fixed by policing alone.

"This is a really challenging problem that applies (to) everybody, all governments, all communities, to work at. But it won't be fixed overnight."

I guess we won't have to put up with him for much longer…

If it is because he is 83 (six months older than I) then I consider your comment indelicate.

Indeed it is, P. Made by someone who is less aware than those of us who have survived this far that a bus tearing down the inside lane could be due to take him out before us. We've seen it all before.
Treasure every day at any age.

And I have seen very little hard evidence either way, and no evidence that governments anywhere are much concerned.

Ed Dowd, a former BlackRock portfolio manager recently participated in Senator Johnson roundtable including many eminent doctors. He concentrates solely on the data. He starts speaking just after the 21 minute mark and talks for only about 5 minutes. His point is that not only did excess deaths and disability increase from 2021 onwards, but the increase was significantly greater in what would normally be expected to be the heathiest cohort, people in long term employment covered by medical insurance through their work. Suddenly, they were seeing higher deaths and disability than the general population, which was a complete switch around. What had changed? Ony one thing – the vaccine mandates.

"The Right completely underestimated the importance of local councils and of local politics. You could have resisted this sort of stupidity arising if you had common sense conservatives in local offices, but instead we have fringe left advocates cutting their teeth and implementing the stupidest, ugliest, and costliest proposals that barely survive a few years before being replaced by something even more hideous. There is no way back without a serious effort to reverse the Left's hold locally."

Exactly, thanks Dover. I've argued this here before, which is that the road for the right to claw back political influence and to enact political and social changes is to begin locally. The right must do what the Greens have done successfully over the last three decades, infiltrate (for want of a better word) local councils and make changes from there. Sure, it's a long slow road, but it works. The Greens, before they hit the federal senate, before they hit the federal House of Reps, before they ran in state elections, began in local councils. The Greens now dominate or make up a large chunk of many councils across the country, which is why so many local councils are now hotbeds of far-left ideology, they're too busy spruiking BDS boycotts, trans issues, green claptrap and so on rather than the fundamentals of roads, rates and rubbish. They've provided us with a template to follow, it's time some on the right took up this political fight, politics isn't just downstream from culture, it's also local.

Police Minister Paul Papalia says Carnarvon's crime crisis "cannot be fixed by policing alone" and hundreds of years of "disadvantage, disempowerment and dysfunction" was to blame for towns with "disproportionate rates of Aboriginal juvenile offending".

What was the rate of indigenous juvenile offending in Carnarvon and like towns in the 1950s & 60s?

Negligible, I suspect.

What has changed?

The application of liberal theories of crime and punishment, for one, a dead end road which Mr. Papalia seems determined to continue down.

Vicki, do you have a link for recent research on synovitis as a reaction to Covid jab? My son got that, badly, in both wrists, two weeks after the second jab which was only three weeks after the first. I couldn't find anything on it when I searched a last Christmas when his pain was excruciating.
Proven as bilateral synovitis of sudden development with no past history by MRI which I paid for, because no doc would chase it up any further on public money nor attribute it to the jab – Emergency at Prince of Wales simply said maybe you've fractured a wrist and xrayed the worst one which of course wouldn't pick up synovitis (this on a bilateral presentation, so that's the quality of interns these days).

The application of liberal theories of crime and punishment, for one

The rise of the Aboriginal grievance Industry, for two.

One follows the other, like night follows day, as a democracy based on the rights and duties of citizenship slides into neo-tribalism, aided and abetted by the philosophically & morally bankrupt two main political parties, who've each in their own way betrayed their foundational principles in the quest for power. But to what end?

One month ago. FBI Director Christopher Wray tells Rand Paul that the FBI works with social media companies to stop foreign interference and violence, not to police any type of speech.

What was the rate of indigenous juvenile offending in Carnarvon and like towns in the 1950s & 60s?

Indigenous juvenile offenders in the Wheatbelt town I grew up in would be collected by the local cops on a dark and moonless night, driven several miles out of town, dropped off, and told to walk home. "Oh, and by the way, Katchdika man's out there, he';ll sneak up on you in the dark, and smash your heads in with his stone club…"

The Aboriginal Legal Service put a stop to that one…

What was the rate of indigenous juvenile offending in Carnarvon and like towns in the 1950s & 60s?
In Qld, being out and about in some towns after dark might result in a quick trot 5 miles out of town attached to the bumper of a Police Car.
Everyone knew the Rules and most were able to exist within those Rules.

Sorta like Jim Crow in America.
Not all Races are similar or interchangeable.
Unless you're a Marxist.

Some of the smaller WA towns don't have much of a problem with their aboriginal yoof because they also have a responsible elder or two to keep them in line.

If any of the local ferals play up, the elders send the miscreants up to the Kimberley to have some culture beaten into them at one of the "communities".

The yoofs hate losing their playstations and daily diet of Maccas/KFC/Hungry Jacks.

Only works if the elders are from the same mob as the villains.

I highly recommend everyone watch this Youtube discussion between the divine Laurence Fox and one of my all time heroes, Victor David Hanson…

https://www.youtube.com/watch?v=ADjTmOqatx0&t=2065s

It was only uploaded last night by Laurence Fox and it's very recent. It makes for superb listening.

One of Phillip Adams original ideas which I have never forgotten was a Saturday article in the Australian when he advised that the Aides epidemic was caused by American women with sagging vaginas caused by the over use of vibrators. I don't know if he ever topped that as I stopped reading him then and the Australian not long after.

he advised that the Aides epidemic was caused by American women with sagging vaginas caused by the over use of vibrators.

I will go out on a non-vibrating limb here, and assert that the women Philip Adams knew are doing it wrong. In any event, he's misspelled 'post hole diggers'.

I don't know if he ever topped that as I stopped reading him then and the Australian not long after.

Stopped? I would have started reading him after that.

bi partisan

Stacked with maaaaaaaaaaates and a token maaaaaaaaaate with a different-coloured tie pinned on.

Electoral kryptonite too, if you were to ask Liz Cheney in a vulnerable moment…*

*And no Cats, I am not volunteering to face the Peril. There are not enough paper bags and volumes of booze-a-hol in existence. And her father might just 'accidentally' a shotgun at me.

#BaLaNcE

I doubt Elon ever asks questions that he hasn't got a good idea of what the answer is. The man is an inventor of sorts, but more than that, an ideas man, a problem solver and if he isn't sure of the answer he knows who will. You don't do what he has done with Space X in such a short time if you can't solve problems. Does anyone really think Twitter for F**ks sake would interest him for long. I think he sees it as a money spinner, and as JC alluded to as vehicle to develop into something useful in the entertainment industry.

2 hours ago
Keep ceremonies on January 26: Price
Laura Placella
LAURA PLACELLA

Indigenous Senator Jacinta Nampijinpa Price says she hopes local councils do not "jump on the bandwagon" and shift their citizenship ceremonies from January 26 because they will be disappointing migrants who have chosen to become Australian citizens.

On Friday, Immigration Minister Andrew Giles announced that local councils will no longer be forced to hold citizenship ceremonies on Australia Day, with Labor overturning rules introduced in 2019 by former prime minister Scott Morrison.

Senator Price, speaking on Sky News, said it would be an "insult" to migrant communities if they were prevented from becoming a citizen on Australia Day.

"As former Deputy Mayor of Alice Springs, Australia is always known for the most popular day of the year for new Australians to hold their citizenship ceremony, to pledge their loyalty, their allegiance, to this nation and (shifting the date of the ceremony) would absolutely ruin it for the many migrant Australians who have made this place their home," she said.

It remains to be seen how many local councils across the country will follow in the footsteps of the Yarra and Darebin councils in Melbourne, who voted to stop holding citizenship ceremonies on Australia Day back in 2017.

Senator Price also criticised Channel 10, after its chief content officer Beverley McGarvey last week panned Australia Day as "not a day of celebration" in an internal note sent to her key programming and editorial staff.

"I couldn't think of a more out-of-touch, completely and utterly removed TV station than Channel 10," Senator Price said.

"I'm sick to death of all these privileged individuals … who have decided what's best for us all and to assume that as a race … Indigenous Australians all think the same and view ourselves as victims. I think it's really denigrating, removes our agency and it suggests, of course, that they know what's best for us and our needs. It's disgusting. I'm done with it."

Cuteness overload here so get the sick buckets ready.
Took the little chap to the pool this arvo and spotted a swallow floundering in the deep end. Used to seeing them dive and skim the surface of the pool for a drink but this one was nearly cactus.
Got the little bloke to fish it out with my hat and got a great pic of him pleased as punch with his rescued bird.
Put the bird over in the sun to dry off and it was gone when we had finished the swim.

/ smug father of a future vet….

Harry and Meghan self-pity marathon proves leftism is only for the rich

Nauseating, hypocritical, narcissistic and unimaginably wealthy: Harry and Meghan's racism claims are the ultimate bastardiation of anything good the left had to offer, writes Joe Hildebrand.

Of all the questions that have emerged from Harry and Meghan's ultra-marathon of self-pity, there is one that has been particularly haunting me: Why do I care?

Sure, they are nauseating, hypocritical, narcissistic, disingenuous and unimaginably wealthy, despite no discernible skills or talent, but this is hardly unique to them. You could probably put 10 per cent of Californians and half the Teals in the same category.

And that is the answer.

As someone who grew up poor and was always raised and educated in the belief that the Left side of politics was about helping the poor, the spectacle of Harry and Meghan is grotesque not just because of who they are, but what they prove.

And that is the sad and evermore intractable fact that left-wing politics has become a plaything for the rich.

What was once a contest for the freedom of slaves and advancement of workers is now a contest for who can claim the most invisible and nonsensical oppression.

And so the cause of the masses has been hijacked by the complaints of millionaires.

The evidence is everywhere, but let's just start with H&M and work our way down.

The most watertight vessel for bullshit oppression is identity politics, and it is no coincidence that it is this ideology the modern upper-middle-class left climbs into like a liferaft at the mildest sign of a storm.

Thus Harry and Meghan have spent years hanging out their shingle on the claim that Meghan was unforgivably racially vilified because of an alleged musing by an unidentified royal in a private conversation about what their baby might look like.

Notwithstanding the fact that literally billions of families over the course of human history have speculated what babies could grow up to resemble – nor that the questioner was probably just hoping it wasn't a ranga – even if such a comment was laced with such racist malice it would rank probably in the bottom 0.2 per cent of the world's known problems.

Possibly lower if you count Africa, ironically enough. But there we have it. A couple that says someone from the British royal family might have been mean to them at a tea party once gets a $US100m Netflix deal to complain about racism. Cool.

This is the ultimate bastardisation of the Left – that the concept of underprivilege could be usurped by incredibly overprivileged people lamenting that despite all their privilege they are still not as privileged as those above them.

Thus Harry complains that he wasn't treated as well as William and Meghan complains that she wasn't treated as well as Kate. And all this is supposedly in the name of equality.

Yet it is no different to the attitude of Harry and Meghan's new friends in Hollywood, where it has become fashionable to compare the pay of male and female co-stars in order to gauge how progressive a film or filmmaker might be.

A female lead might complain about getting, say, $15m while her male counterpart pocketed $20m. Is that unfair? Probably. Are either of them oppressed? Probably not.

In Australia, we recently saw the perplexing spectacle of a multi-millionaire female chief executive of a publicly owned company being targeted by Labor for handing out Cartier watches to her fellow executives, only to have her then cast as a victim of sexism when she was fired as a result.

This was, needless to say, somewhat confusing for all involved.

So far, so funny. But the bourgeoisie's shameless overthrow of the class that was once supposed to overthrow them also has tragic consequences in the real world.

Consider the Covid pandemic, during which affluent and outspoken elites with enormous political power and social media reach demanded restrictions on the masses – overwhelmingly in the name of
so-called "progressive" politics.

Lockdowns were called for by those with the biggest houses while the poorest were holed up in their flats for weeks and months on end.

White-collar workers who could Zoom all day embraced the home revolution while blue-collar workers either had their jobs wiped out or were sent to the frontline.

And the children of those most educated and available were able to continue online learning while the most at-risk kids silently disappeared.

As reality and the Shergold inquiry have shown, this ideological campaign was almost entirely factually wrong and its effects were profoundly destructive to the most poor and vulnerable in our society.

And it was all driven pretty much exclusively by wealthy left-wingers. Little wonder the working-class voters of Melbourne swung against Dan Andrews while upper-middle-class seats swung towards him.

This is the real inconvenient truth the so-called progressive side of politics has to face: Wealthy leftists have stolen what was once the domain of the working class.

But the resurgence of the Labor Right under the unassailable – albeit shamelessly isolationist – Mark McGowan, SA's pro-nuclear Peter Malinauskas and NSW's sensible Chris Minns gives hope that genuine defenders of the aspirational working class are rising again.

The rich have stolen the Left. But, to quote the quintessentially woke rock god Bono: We're stealing it back.

JEREMY CLARKSON One day, Harold the glove puppet will tell the truth about A Woman Talking B*****ks

Jeremy Clarkson

WE all know in our heart of hearts that Harold Markle is a slightly dim but fun-loving chin who flew Apache helicopter gunships in Afghanistan and cavorted around Las Vegas hotel rooms with naked hookers.

But then along came Meghan, who obviously used some vivid bedroom promises to turn him into a warrior of woke.

And now it seems that she has her arm so far up his bottom, she can use her fingers to alter his facial expressions.

I actually feel rather sorry for him because today he's just a glove puppet with no more control over what he says or does than Basil Brush.

That makes me even angrier. Can't they see everything that's happening is so very obviously pre-planned.

Leave the UK. Blame the royals. Do an interview with Oprah.

Get Basil Brush to write a book. Do a Netflix series — which should have been called A Woman, Talking Bollocks.

I can see it clearly. The studied pauses. The mock incredulity.

And the B-movie, soap-actress, quivery-voiced, more-in-sorrow-than-anger stories that are so obviously claptrap.

Do you really think she would have entertained a move to New Zealand? That's 13 hours away from everything.

And I can tell you, with absolute certainty, what's coming next.

Harold's Spare book will be released.

Then she'll do one called I Think I May Be God. And then she'll have exhausted the whole royal thing — so will be off.

We will see Diana-style photographs of her, all on her own, outside the Taj Mahal.

And then she will be pictured gazing into the middle distance, on the back of a playboy's superyacht and will marry a tech billionaire and they'll have a child called something vomitty like Peace. Or Truth.

Or Love.

Harold, meanwhile, will be stuck in California with no friends, either there or here, no family to support him and an army of young girls who'll believe Meghan's story that the marriage break-up was all his fault because he's, like, you know, sooooo a man.

And the Royal Family?

She's going to damage them — be in no doubt about that.

Because one day soon, my generation will all be dead, and we will be replaced by a new bunch who are growing up believing that Charles and William and Co are bullies who are waited on hand and foot by slaves, eunuchs and spin doctors.

Unless, of course, when Meghan takes her hand out of the ginger glove puppet, he remembers who he is and gives us "the" truth.

Not hers.